No Comments
Free Three Paranormal, Fantasy, Mystery & Romance Nook books!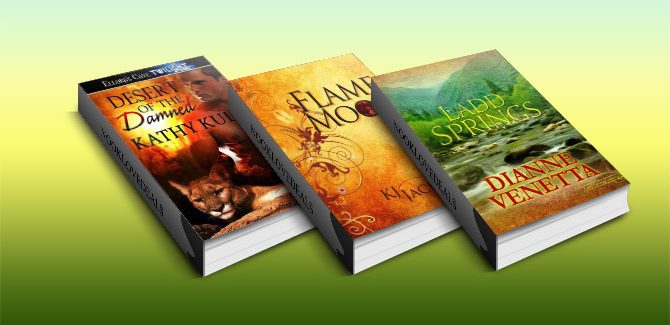 Free! "Desert of the Damned" by Kathy Kulig
Genre: Paranormal Romance
While working on an environmental project in the Arizona desert, research scientist Amy Weston finds herself caught in the war between two men. Dante Akanto lures her into the desert to explore the dark side of her passions, pleasuring her in ways she never thought possible with his bizarre sex games. And park ranger Jake Montag has a compelling mysticism and powerful sensuality that's impossible to resist.
But the two men, demon and shapeshifter, are engaged in a supernatural fight between worlds. Amy and her high level of life force energy is the key. Dante's world and his immortality depend on claiming her as his own. The choice Amy makes between the two men will affect both her world and her future.
"Flame Moon (A Flame Moon Novel: Volume 1)" by K.J. Jackson
Genre: Fantasy, Romance
Skye Walters thought waking up on the side of a river with no memory was her biggest problem. She had no idea the man who saved her from drowning, the man she now depended on, Aiden, was more than mere mortal. A warrior of ancient.
No memory, nowhere to go, Skye stays in the mountain town, only to discover she herself, has unexplained powers. Her life, her destiny, are soon out of her control.
"Ladd Springs" by Dianne Venetta
Genre: Mystery & Crime, Romance
Delaney Wilkins finds herself at odds with hotel developer Nick Harris over a deathbed promise and a mysterious find in the Tennessee forest. Both are after title to Ladd Springs, a mecca of natural springs, streams and trails in the eastern Tennessee mountains, a tract of land worth millions. But Ernie Ladd, current owner of the property and uncle to Delaney, is adamantly opposed to them both.
Felicity Wilkins, Delaney's daughter, deserves to inherit her family's legacy, but neighbor Clem Sweeney is working against her, ingratiating himself with Ernie Ladd. Clem is also harboring a secret that will make him a very wealthy man—unless the others stop him before he can bring it to fruition.
Complicating matters is Annie Owens. Ex-girlfriend to Jeremiah Ladd, Ernie's estranged son lining in Atlanta, she declares her daughter Casey is Jeremiah's, making Casey every bit as entitled to the property as Felicity—only Annie hasn't proven this claim. Yet.
All are fighting to get the property, but only one will walk away with the gold.