No Comments
Free Three Paranormal Romance Books by Lizzy Ford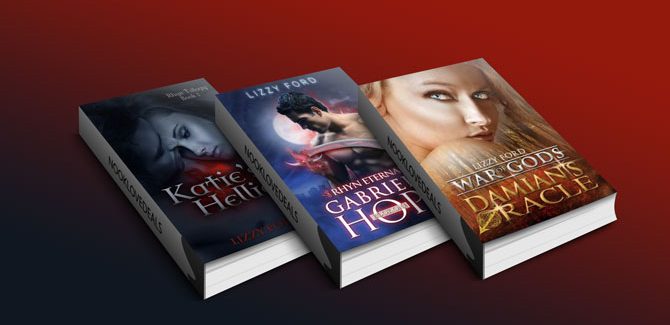 "Gabriel's Hope (#1, Rhyn Eternal)" by Lizzy Ford
Continuation of the Rhyn Trilogy saga. Recently appointed as Death, Gabriel's life can't get much worse. His underworld is in shambles, and he's racing demons to collect souls in the human world. Now in human form, Deidre – Gabriel's predecessor and long-time tormenter – is dying from a brain tumor. To survive, she must show him that the world is filled with more than tragedy and pain.
"Katie's Hellion (Rhyn Trilogy, Book 1)" by Lizzy Ford
Katie thinks she's going crazy when a baby immortal and death's personal assistant appear at her doorstep. She's drawn into a world filled with immortals like Rhyn, an outcast half-breed who claims her as his mate in a show of defiance to his brothers. Rhyn rescues her from Hell and discovers his little human has a gift that'll help his brothers protect the immortal and mortal worlds. YA – mature.
"Damian's Oracle" by Lizzy Ford
As featured in USA Today. Caught in the war between the White and Black Gods, Sofia and her rare gift bring victory to he who grabs her first. Her difficult transition from human to oracle forces her into a new world, where she struggles in her role as Damian's mate and to help a mysterious man who's supposed to be dead. Sweet paranormal romance.