No Comments
Free! "Speak No Evil" by Cat Byrd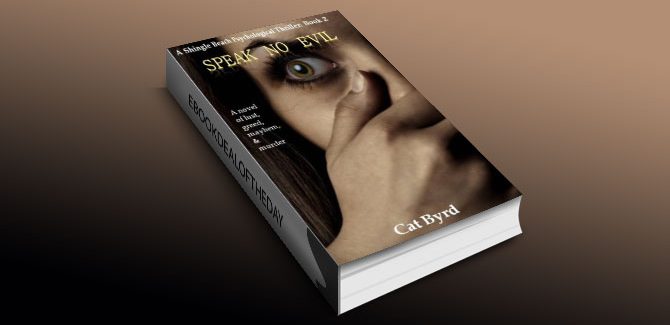 Ebook Deal of the Day: Free! "Speak No Evil" by Cat Byrd
Genre: Suspense, Thriller
How far would you be willing to go to stay on top?
Best-selling author Margo Malone desperately needs another best-selling novel. She hatches a plan for her identical twin sister to assume her identity for a few days to give her time to finish writing it. There's only one problem. Tess refuses.
Tess wakes up with amnesia after an accident. She remembers nothing of her life. When everyone tells her she's Margo Malone, she unknowingly assumes her sister's identity. The Mafia husband she plans to divorce is the first to figure out who she is, placing her in danger. A woman was murdered before he left Chicago and now that he's at Shingle Beach, other women are being murdered in the same horrific manner. Could he be the killer?
Tess suffers from both sleep terror and sleepwalking disorder. She finds herself in strange places, with no clue how she arrived there. When she wakes with blood on her hands and finds items in her closet linking her to the murdered women, she begins to wonder if she's the killer.
While Margo is in hiding, women continue to die, the latest murdered brutally on neighboring property. Can she stay alive long enough to finish her novel? Can Tess stay alive long enough to make a new life for herself far away from the Mafia?
Speak No Evil, is a psychological thriller, with a fast-paced-keep-turning-the-page edge. This work of fiction explores trichotillomania, amnestic disorder, bipolar disorder, sleep terror disorder, and sleepwalking disorder. All are mental illnesses listed in the DSM.
Coming soon…watch for the third book in the Shingle Beach Psychological Series, 696 Evil Beach Road, which will explore shared psychotic disorder.