No Comments
Free Four Kindle Books this Friday!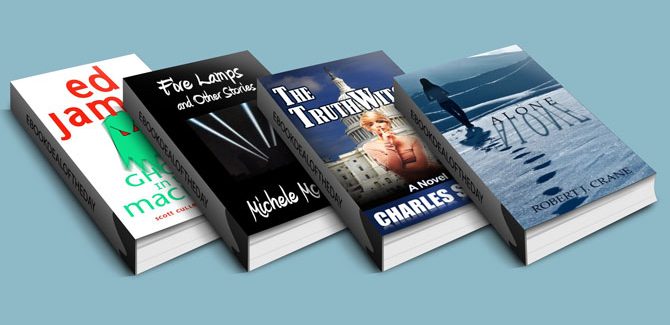 Free 'til 3/5! "Alone: The Girl in the Box, Book 1" by Robert J. Crane
Genre: Urban Fantasy
Sienna Nealon was a 17 year-old girl who had been held prisoner in her own house by her mother for twelve years. Then one day her mother vanished, and Sienna woke up to find two strange men in her home. On the run, unsure of who to turn to and discovering she possesses mysterious powers, Sienna finds herself pursued by a shadowy agency known as the Directorate and hunted by a vicious, bloodthirsty psychopath named Wolfe, each of which is determined to capture her for their own purposes…
Free 'til 3/3! "The Truth Witch" by Charles Steed

Genre: Political Thriller
It's springtime in America and all is well. That is, until government officials everywhere begin offering unsolicited public confessions to serious transgressions of fraud, abuse of power, along with racketeering and corruption both in office and in their private lives. Without provocation, elected public servants at all levels of government from simple municipalities to the highest offices of the legislative branch in Washington DC are baring their souls without restraint, remorse or any rational motivation.
Each day brings a new rash of public confessions, seriously damaging confessions. When asked why they're openly copping to their dirty laundry no one can come up with a straight answer, only that they feel compelled to clear the air and let the pieces fall where they may. Naturally, the media picks up on the unprecedented story as it becomes the inspiration for new reality TV shows and offers tantalizing fodder for late night TV talk programs and comedians everywhere. Of course, the question on everyone's mind is, why is it happening? The media dubs the phenomenon The Truth Rampage as the confessions are the lead story in every newscast nationally as well as abroad.
It's almost as though these officials are under a witches spell. Could it be that Delores Barnes, an unassuming, anxiety-ridden teacher's assistant from Epping, New Hampshire is behind it? It's true that she once practiced witchcraft with her high school girlfriends using an old spell book. Though that's doubtful, as self-admitted meek, mild "scaredy cat" Delores is afraid of her own shadow. But after saving a congressman's daughter from drowning at great risk to herself, Delores makes a dynamic life-changing transformation. Such a profound transformation, in fact, that she'll inspire anyone who has ever experienced even the slightest bit of self-doubt.
Not only does she undergo an astounding personal metamorphosis, she discovers she has a great deal of leverage in persuading big business, the media and other predatory entities to cut the "little guys" a break in many areas of their lives. You'll cheer aloud as Deloris (Dee) turns the tables on the manipulators and subtly lobbies for justice across the board for the people, and gets it.
And then there's the President of the United States, Grant Holoman, a man who holds the highest approval rating of any president since ratings have been monitored. Holoman is loved my most, scorned by his contemporaries and feared by those who know him well. But the man isn't who he appears to be on any level. The President publically endorses the phenomenon (though privately he loathes the Truth Rampage) saying it's a breath of fresh air and openly welcomes the truth. But the popular President is a man with dark secrets and a diabolical agenda that involves political espionage, perjury, manipulation, murder for hire, and any other tactic that will advance his fanatical goal. The only problem for Holoman is that his plan stands to be derailed by the Truth Rampage. And… by a strange twist of fate, he's unaffected by the trend of truth.
If you're of the mind that it would be good for politicians to suddenly come clean with the whole truth and nothing but the truth you might want to think again as you see how this tale unfolds.
The Truth Witch is part political action thriller, political mystery, part action adventure, a dash of fantasy with a healthy dose of satire thrown in for good measure. As you read you'll be picking your favorite actors for the screen version as this story is nail-biting, white knuckle stuff right down to the amazing climax.
Free 'til 3/2! "Five Lamps and Other Stories" by Michele McGrath
Genre: Shortstories, Romance, Scifi
A collection of twelve short stories in a variety of genres, including historical fiction, real life, fantasy, ghost stories, true romance and relationships. One of the stories won an international award and others have also won prizes. Walk with Frances through the darkened streets of wartime Liverpool. Take a cable car to a different dimension. Ride a winged horse or fall in love at first sight as Kathleen did on her twenty-first birthday.
PermaFree! "Ghost in the Machine (Scott Cullen Mysteries 1)" by Ed James
Genre: Crime, Thrillers & Mystery
Detective Constable Scott Cullen of Lothian and Borders has only been three months in CID as a full DC. He is assigned a Missing Persons case which has stretched his uniform colleagues. Caroline Adamson – a young, recently divorced mother from Edinburgh – has disappeared whilst on a date.
The more Cullen digs into her disappearance, the more he unravels her private life. Who was she on a date with? What happened during her divorce from Rob Thomson? As Cullen's own private life gets messier and the relationship with his DI deteriorates, Caroline's body turns up and he finds himself hunting for a ghost in the machine.
Book one of the Scott Cullen series.