One Comment
$4.99 "The Claire Wiche Chronicles Volumes 1-3" by Cate Dean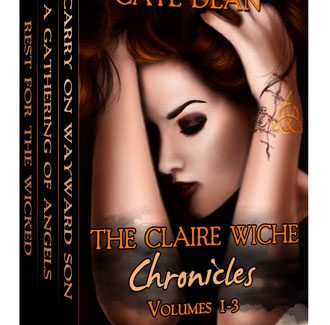 Ebook Deal of the Day: $4.99 "The Claire Wiche Chronicles Volumes 1-3" by Cate Dean
Genre: Paranormal
Now get the first three books of The Claire Wiche Chronicles in one set!
Rest For The Wicked
She's running from her past. And running out of time.
Claire Wiche is an ordinary woman, running her Wicca shop, The Wiche's Broom, in an ordinary California beach town. But Claire wasn't always ordinary, and she isn't quite human. She hides a secret, and a past she thought she had put behind her.
A past that is about to explode into her present.
When it does, and everyone she loves is in danger, Claire must face up to her past – and become what she left behind in order to save them.
A Gathering of Angels
Claire Wiche sacrificed everything to keep her friends safe, revealing her true self. She expected the final battle to be the end for her. But she is back, breathing – and threatened by an enemy she doesn't have the means to fight.
An enemy bent on vengeance and possession, whatever the cost.
Trapped, alone, Claire has to find the strength to stand against what she knows she can't defeat. And the courage to face the people she thought she left behind.
Carry On Wayward Son
Claire Wiche is home again – and putting together the pieces of her life. The life she thought she left behind forever.
Now that new life is tested by a familiar stranger, and a ghost haunting that becomes much more.
Claire and her friend Annie will have to face off with a volatile force, who traps them with his own needs. And Claire will face her true self, making a sacrifice that will change what she is, and what she will become.