No Comments
Echo Canyon Brides Box Set – Books 1 – 3 by Linda Bridey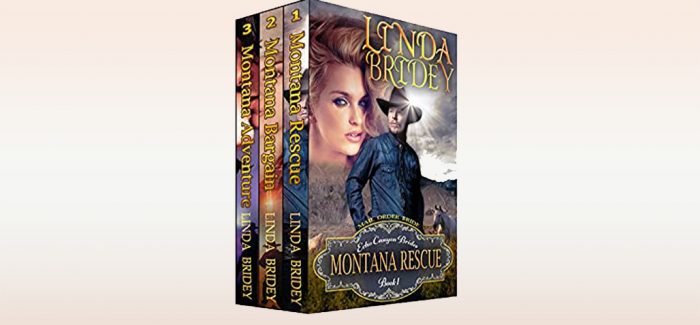 Realtime Price – $0.99
A rugged sheriff, an opinionated veterinarian, and a dusky native American. Can passion blaze a trail to the untamed West?
Box set: Over 600 pages of dusty roads leading to love on the range!
Northwest Territory, 1800s. Sheriff Evan Taft hopes attracting educated women will civilize his pioneer township. While his mail-order bride ad brings the comely and virtuous Josie into his life, he's still haunted by his troubled past. And with a ruthless businessman intent on owning the entire settlement, Evan fears protecting the tough frontier might leave no room for love.
Dr. Winslow Wu knows his heritage makes most white folk put him beneath the animals he treats. But he sticks to his belief that the thriving small-town needs a real medical doctor… and he wants a wife. Though after marrying the charming Dr. Erin Avery from his advertisement, the gruff veterinarian discovers their instant chemistry could be rubbing him up the wrong way…
Billy Two Moons thinks he's finally found his ideal woman. But while the good-looking native awaits his bride-to-be's arrival after placing an advert, Billy gets involved in the rescue of Nina, a white woman raised as an American Indian and sold into slavery. And when the two are forced to marry at gunpoint, they discover their hearts may have an entwined destiny.
With the small Montana town thriving, the romantic aspirations of three strong men encounter opportunism, prejudice, and jealousy as they follow their heart's desires.
Will these daring men and women of the frontier survive dangerous times in pursuit of love?
Echo Canyon Brides Box Set, books 1-3, contains three standalone stories from the adventurous Western romance series. If you like heartwarming scenes, courageous characters, and Wild West dramas, then you'll adore Linda Bridey's action-packed tales of true love against all odds.
Genre: Romance
Echo Canyon Brides Box Set – Books 1 – 3: Historical Cowboy Western Mail Order Bride Box Set Bundle (Echo Canyon Brides Box Sets) by Linda Bridey