No Comments
Chastity Falls by L A Cotton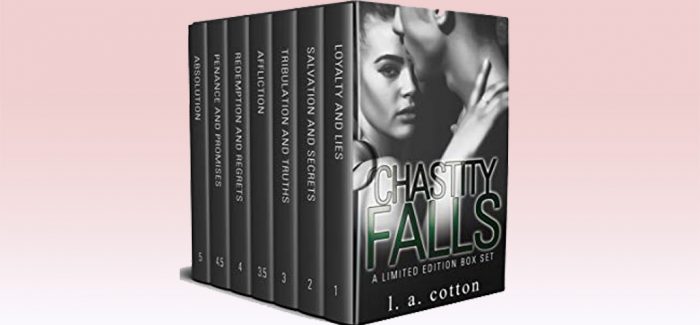 Realtime Price – $9.99
The complete bestselling angsty and addictive new adult romance series bundled together for a limited time only!
When eighteen-year-old, Ana Parry arrives at Chastity Falls Academy, it's supposed to be her fresh start, her escape. Until she meets mysterious Jackson. She shouldn't want him. He definitely shouldn't want her. But before they know it, it's too late, and their attraction sparks a series of events that neither of them could have predicted…
Welcome to Chastity Falls.
Over 430,000 words, the set includes:
Loyalty and Lies
Salvation and Secrets
Tribulation and Truths
Affliction
Redemption and Regrets
Penance and Promises
Absolution
Also includes three alternate POV scenes and a brand new epilogue chapter: Family and Forever.
Due to mature content this series is recommended for readers 17+
Genre: Contemporary Romance, New Adult, Suspense
Chastity Falls: Limited Edition Box Set by L A Cotton