No Comments
$0.99 "Ethereal Messenger: Three Novels" by Scott Nicholson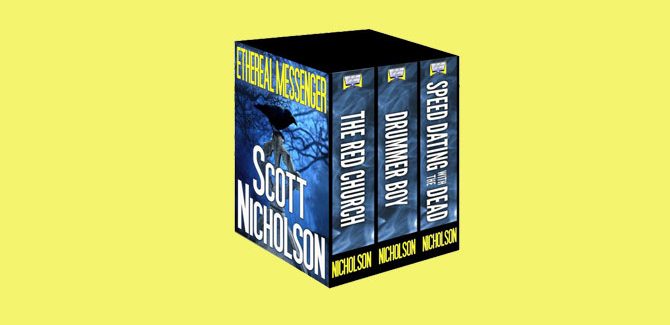 Ebook Deal of the Day: $0.99 "Ethereal Messenger: Three Novels" by Scott Nicholson
Genre: Mystery, Thriller & Suspense
"Like Stephen King, he knows how to summon serious scares." -Bentley Little
An omnibus edition of three supernatural novels by bestselling author Scott Nicholson. DRM-free.
THE RED CHURCH: A young boy and a sheriff must solve the mystery of a haunted Appalachian church after a strange preacher returns to town. A 2002 Stoker Award finalist.
DRUMMER BOY: One misfit kid is all that stands between a mountain town and a chilling supernatural force when the past and the present collide.
SPEED DATING WITH THE DEAD: A paranormal conference at the Blue Ridge Mountain's most haunted hotel goes haywire when ghost hunters accidentally stir up demons.
————
Scott Nicholson is author of 12 novels, including the #1 Kindle bestseller in mystery and suspense, DISINTEGRATION. Other titles include THE SKULL RING, FOREVER NEVER ENDS, BURIAL TO FOLLOW, and AS I DIE LYING. He's also released the paranormal romance series OCTOBER GIRLS and, with J.R. Rain, the urban fantasy CURSED!, as well as six story collections. Visit him at Author Central.