No Comments
Dragon Shifters of Kahului by Brittany White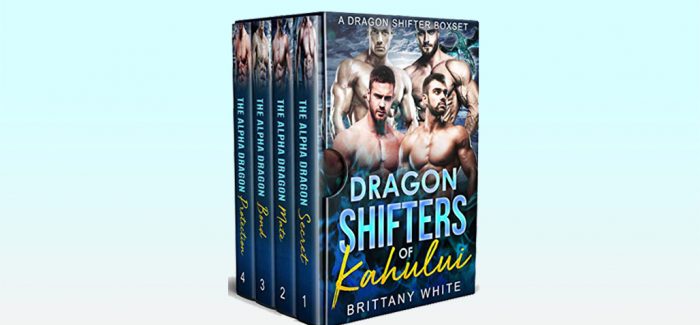 Realtime Price – $0.99
Do you like sexy alpha dragons? The Dragon Shifters of Kahului are over-the-top alpha males who like things their way.
Four dragons, Four friends and Four happy-ever-afters!
THE ALPHA DRAGONS' SECRET
This alpha water dragon was sent to protect me.
But he ended up destroying my life instead.
And turned my world upside down.
He claimed to be my soul mate and I let him take control of me.
And then he disappear.
What will happen when he will return and find out the secret I am carrying?
THE ALPHA DRAGONS' MATE
This dragon won't stop at anything until he claims me.
Grey eyes, irresistibly strong, and obsessed.
And me?
I'm nothing if not an ordinary bookworm.
His intrusive eyes make me weak in the knees.
I'm desperate for him.
And he will do everything in his power to protect me.
THE ALPHA DRAGONS' BOND
This shifter is out of control. He drives me crazy.
And the only one who can tame him?
Me.
Apart from getting under my skin, he's also been pulling me closer.
And making me drool over his irresistible body.
We have a primal mating bond.
So, destiny should be on our side.
But threats from our former lives might tear us apart.
THE ALPHA DRAGONS' PROTECTION
A dragon with a thirst for me.
He mends my broken heart and protects my fragile body.
His fiery touch is a balm for my wounds.
It sets my skin on fire.
He's my mate, but he thinks he knows all of me.
He hasn't visited the dark corners of my life.
Not yet.
Will he still want me when he discovers another side of me?
Warning: Intended for 18+ audiences.
Genre: Paranormal Romance
Dragon Shifters of Kahului: A Dragon Shifter Box Set by Brittany White