No Comments
Alpha Bosses: A Secret Baby Romance Box Set by Ava Storm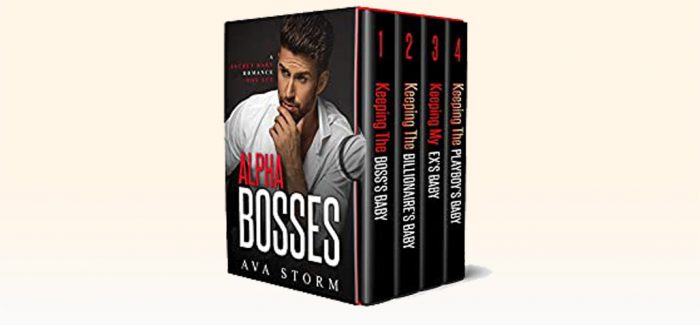 Realtime Price – $2.99
Four handsome billionaires think they have it all. Until four remarkable women show them exactly what they're missing. Secret babies, second chances, and satisfying HEA's are yours for the taking.
Book 1: Keeping the Boss' Baby
One night together and we both forgot our troubles for a few hours.
Now two years later she walks back into my life.
Despite my better judgement, I give her a job.
One that keeps her a little too close to me.
Just where I want her. Always.
Now the walls are tumbling down around me.
Paige isn't who I thought she was, and worse yet,
She's keeping a secret that will blow my whole world apart.
Book 2: Keeping the Billionaire's Baby
He wants my family's company,
He wants to make me pay for what he thinks I did all those years ago.
I've tried to tell him he had it all wrong,
But he's too stubborn to listen.
Now my life is in danger and Kai is staking his claim.
He'll have my company, and me if he gets his way.
And I just might let him.
Book 3: Keeping My Ex's Baby
I walked away from Griffin Prentice ten years ago
Not because I didn't love him
But because I thought I belonged in Paris
It had everything an artist could want
But even after all of this time
Griffin's touch is still what I need
But he's changed so much, I can barely recognize him
His life is one big game now
Am I just another pawn?
Book 4: Keeping the Playboy's Baby
I screwed up with Lana, I can admit it
But I never thought it would come back to bite me in the ass all this time later
It's a special kind of hell having her all over me
Knowing that it's just for show; that I can't really have her
I'm trying to be a gentleman about it,
I'm trying to make up for the mistake I made five years ago,
But if I end up getting her back in bed for real
Well, that's just a bonus.
Cuddle up and watch these Alpha Bosses lose, find, and realize their greatest loves. Four standalone stories full of drama, family, love, loss, and plenty of steam are sure to make any night in just as exciting as going out on the town.
Genre: Contemporary Romance
Alpha Bosses: A Secret Baby Romance Box Set by Ava Storm