No Comments
Blade and Rose: Books 1-3 Digital Boxed Set by Miranda Honfleur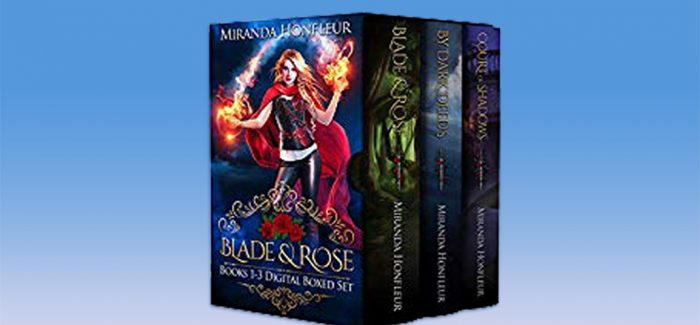 Realtime Price – $9.99
This boxed set includes the first three books in the Blade and Rose series, over 2,400 pages of romantic epic fantasy.
A kingdom in turmoil or the love of her life. Which one will she save?
Elemental mage Rielle hasn't heard from her best friend in far too long. Yet no one at the Tower of Magic seems to care about Olivia's silence, or the curtain of secrecy surrounding the distant capital. Before Rielle can investigate, she's assigned a strange new mission: escort a knight named Jon across the kingdom.
When whispers reveal mercenaries have killed the king, taken the capital, and that no one is coming to help, Rielle can't leave Olivia in peril. But as infamous mages and deadly assassins hunt Jon, she can't leave him unprotected either–especially as she finds herself falling for his strength, his passion, and his uncompromising goodness. Her past returns to haunt her, a werewolf stalks their steps, and an ancient evil is gathering, yet the restraints forbidding their love strain and snap one by one.
Saving Olivia and the kingdom means defying orders and sacrificing her every ambition, and could mean losing the man who's become so much more to her than a mission. Which will she choose: her best friend and the kingdom, or the love of her life?
Discover why readers around the world love the Blade and Rose series!
"With a brilliant plot line and rich, exciting characters, and a very touching, beautiful, sensual, passionate and honest love story" –Amazon Reviewer
"The best part is the main female character, Rielle… No damsel in distress, she's a strong, smart, and reliable mage all on her own. She has flaws, but it makes her relatable. You cheer her on from start to finish." –Amazon Reviewer
"Honfleur sucks you into her vibrant and tumultuous world right away with unforgettable characters and a masterful plot that enthrall the reader to the very last page (and beyond)." –Amazon Reviewer
"Wonderful, detailed world-building and engaging, interesting characters set the stage for this intriguing fantasy story. Action, adventure, suspense, and intrigue – and plenty of twists and turns – kept me turning pages, fully immersed" –Amazon Reviewer
"What an excellent, exciting, gripping, spellbinding first book for this series." –Amazon Reviewer
"Sweeping fantasy with deeply human characters" –Amazon Reviewer
Ready to find out for yourself? Dive in and see why thousands of readers have joined the adventure, drama, and intrigue of this romantic epic fantasy series…

Genre: Fantasy
Blade and Rose: Books 1-3 Digital Boxed Set: Blade & Rose, By Dark Deeds, & Court of Shadows by Miranda Honfleur