No Comments
Bear Guardian, Book 1 by Brittany White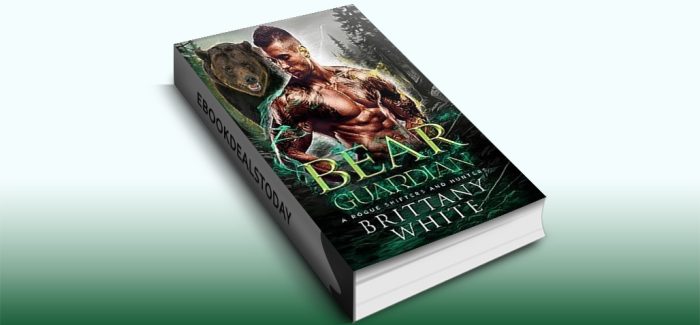 Realtime Price – $0.99
Seeking adventure, I met the man who would turn my world upside down.
I have always been interested in the paranormal. Every summer, I went on a small adventure looking for evidence that the paranormal existed, whether it was ghosts, psychics, or witches. This year, my goal is to find out whether shifters are real or just a myth. I ended up at the Forest Resort in Ivy Springs, Colorado. The resort was run by billionaires who hated shifters and wanted them all destroyed because of an ancient legend.
Not truly believing that shifters existed, I ended up under the protection and in the arms of a bear shifter.
Noah Williams was a bear shifter dedicated to protecting the shifters from the hunters that roamed the area. His life was busy between protecting the shifters and the large ranch that he owned outside of the mountain town. He wasn't pleased when I entered the scene and turned his life upside down.
Determined to protect me from myself, a rogue shifter, and hunters, Noah appointed himself my guardian.
I didn't know that this man I was quickly falling for had a secret – a secret that would change my life.
Hunters – Determined to kill all the shifters in the area.
Faisons – Billionaires who wanted revenge against the shifters because of an ancient legend.
Bear Shifter – Determined to keep the shifters safe from the hunters at all costs and the
love of my life.
Noah's life was completely disrupted when he appointed himself my protector. Not only did he watch over me, but he embraced me, made love to me, and stole my heart.
Would our love survive the hunter's attack and a journey into a new world?
"Bear Guardian" is a passionate, standalone paranormal romance, promising an enduring happily-ever-after.
Genre: Paranormal Romance
Bear Guardian: A Paranormal Shifter Romance (A Rogue Shifters And Hunters, Book 1) by Brittany White