No Comments
Zelup (The Vartik King Chronicles, Book 3) by Liza Probz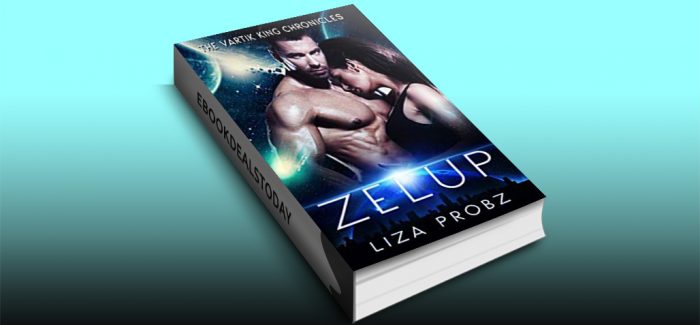 Realtime Price – $3.99
Dawn
Who would have thought it? A one-night stand should have only been one night.
Then the hot guy shows up on my doorstep with a business proposal that stinks more than a Vanfian female in heat.
He's hiding something. I just didn't expect it to be an upcoming apocalypse.
I have no choice but to go all in, but the plan is to keep my heart protected from him.
Yeah right. My hormones are leading the way, and this guy isn't going to let me slip from his grasp that easily.
Zelup
Life is just never easy, is it?
My older brother shacks up with the daughter of a goddess, and all of a sudden, our planet is pushed into an apocalypse.
And I'm forced to hunt down a mythical Guardian to aid us in the fight against the demon host that's squared off to us.
What I don't expect in my travels is to fall for a feisty scientist.
She sees through my crap and is hotter than Hades.
But I can't afford to be distracted.
And yet, that's exactly what I am. This Guardian can suck it. I'm more interested in convincing Dawn I'm her man, her protector.
Until the Crowned Prince of Hell gets her. His threat?
To erase me from her memory forever.
The Vartik King Chronicles is planned as a sexy Sci-Fi Standalone series where eight siblings get an adventure and find love in the galaxies beyond home. Come join this new adventure and fall in love with the world I've created. Each book can be read separately and out of order! Enjoy.
Note: It's seven brothers and one sister, hence the eight siblings change.

Genre: Paranormal Romance, SciFi & Fantasy
Zelup (The Vartik King Chronicles, Book 3) by Liza Probz