No Comments
Wings of War: The Angel Academy Complete Series by Riley London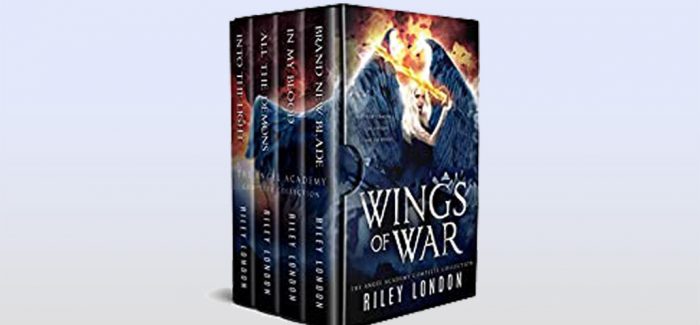 Realtime Price – $9.99
Fight demons. Fall in love. Save the world.
Welcome to Angel Academy.
Wings of War is the full, four-book Angel Academy series wrapped up into a single, binge-worthy volume.
Need to escape into a world of take charge heroines, hot angels, and a battle that rages between Good and Evil – and for Celeste's heart? Look no further.
My name is Celeste Venoix and I'm no angel.
I never had a family, so I've been taking care of myself ever since I was a kid. One night, some creep follows me home, and I use my fists to put him in his place. After the brawl, a handsome stranger approaches me, saying that I might be an angel.
What the ….?
Next thing I know, I'm enrolled at the Angel Academy. The academy teaches angels-in-training how to fight demons and become fluent in an ancient language or two. It's hard enough trying to keep up with my classes, but somewhere between working on my swordsmanship and my Latin prepositions, I find myself falling for my best guy friend.
And falling for a handsome stranger.
And falling for a guy who totally hates my guts.
All at the same time.
Oh, and did I mention that demons keep trying to kill me and I have no idea why?
God.
It's going to be one blazing inferno of a year.
***
My second year at the Angel Academy has been insane.
Between training for battle and juggling coursework, I've been busier than ever. And on top of that, I've got a Demon Prince breathing down my neck, and I think I'm falling for a guy who I'm pretty sure is a prick.
Oh, and my long, lost sister has decided to enroll at the academy this year, too.
And of course, she's apparently trying to ruin my life.
She keeps flirting with the guy I'm in love with, and she won't stop talking about us taking over the world together.
I have no idea how I'm going to get through the school year, but at least I have my guys and I hope that's enough.
***
My best friend Charlie has been kidnapped by demons, and I have no idea how I'm going to get him back.
Now, the angelic council says I'm the girl who's supposed to save the world, which is way too much pressure for someone who can barely hold their own against a Prince of Darkness.
And then there's my heart being pulled in so many directions:
Charlie, the best friend I'm not sure I can live without.
Zachary, the enemies-to-lovers roommate I can't get out my system.
And beautiful Benjamin, the achingly pure and gorgeous angel who threatens to break my heart.
Now? I'm trying to keep the people that I love safe, while I figure out if I'm really supposed to be the good guy or the bad guy.
I don't even know if I'm still cut out for the Angel Academy…
Maybe I should just go straight to Hades
***
As the war between Heaven and the fiery Demonic underworld breaks out, I realize that I'm going to need to be the strongest I've ever been.
I need all my guys for backup. And for my heart to be at peace, no matter what happens.
How am I going to convince the loves of my life to give me another chance? And what's going to happen if we can't come together in time to save everyone's souls?
I know that I can't do this alone.
I just hope that we make it through our last year alive.
The Angel Academy series is a paranormal, university-age reverse harem series. Get ready for angelic warriors, terrifying demonic foes, and an action-packed story that ends with steamy, sweet, and totally heart-melting HEA for Celeste and her guys.
#WhyChoose
Genre: Paranormal Romance
Wings of War: The Angel Academy Complete Series by Riley London