No Comments
Wedding Season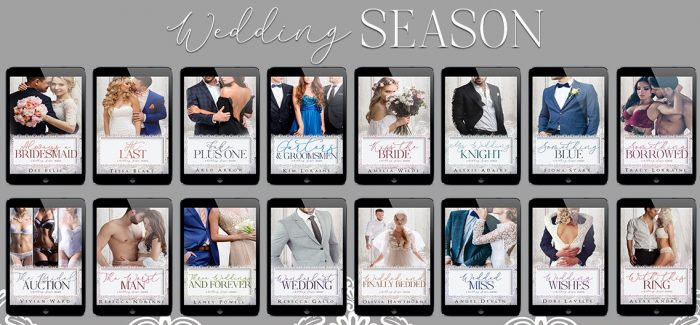 It's Wedding Season!
Something old, something new, Will you say "I do"?
Sixteen best-selling Flirt Club authors are headed down the aisle with a new collection of steamy, sweet stories!
The best-selling authors of Flirt Club are at it again! This time we have sixteen couples heading down the aisle with our new Wedding Season collection of steamy, sweet novellas, all for just .99 each, and FREE in Kindle Unlimited!
---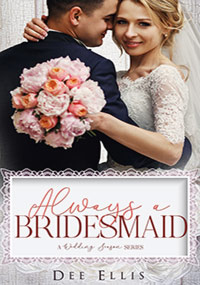 Always a Bridesmaid
by Dee Ellis
Rian Dexter gave up on love four weddings ago.
Selling forever to men and women as a jewelry designer has lost its sparkle. Despite her disenchantment, another day brings another wedding with another sparkling promise of forever for someone else.
Except Roman Thorn has no desire to marry the woman he's buying a ring for. Arranged marriages are still done and he made a promise—one he wants to break the moment he lays eyes on Rian. Bright, beautiful, and bold, she's the first woman he's ever wanted to get on his knees for.
Roman is a man of his word—and though he promised to marry someone he felt nothing for, he will break that word to marry the woman who makes him feel everything.

---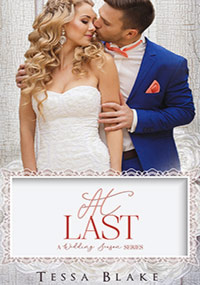 At Last
by Tessa Blake
This day has been a long time coming…
After six marriage proposals, one breakup, and two babies, the day is finally here: Jen and Caleb are getting married!
But after they disregard the rule about seeing the bride and instead grab a quickie before the ceremony, their long-awaited day seems to be turning out to be the biggest disaster ever.
Everything that can go wrong does — from missing rings to a dropped cake to the weirdest hokey pokey ever — and the hits just keep coming.
They've planned too long and been through too much to let this day get derailed … but Jen's starting to think maybe there's something to that old tradition after all.
Please note: This is the third in a trilogy of short stories. You may enjoy it more if you've read the earlier adventures of Jen and Caleb in the stories Man-Berry Sauce and Santa's Helper.

---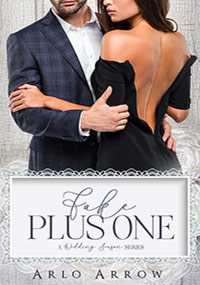 Fake Plus One
by Arlo Arrow
He was only supposed to be my plus one to the wedding…
The last thing I expected as I headed to my catering job was to end up fired and the plus one of the Bride's brother!
But having just lost my job, and him desperately in need of a date other than his Ex, I agreed. I never expected it to lead to a perfect night of passion, or to be accepted by his amazing family as his girlfriend.
But when the evening ends, will I be able to go back to living paycheck to paycheck, or will my very own Prince Charming change my life Forever?

---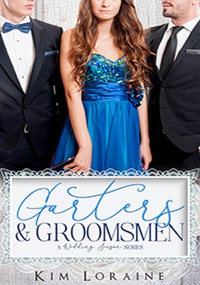 Garters & Groomsmen
by Kim Loraine
I've only loved two men in my life and I broke both their hearts.
Now, years later I'm stuck between them both at my cousin's wedding. The bride doesn't understand my issue with having two hotter than sin cowboys on my arms for the whole wedding weekend. But she doesn't know the history I have with these men.
Colt and Sean are the two men I couldn't choose between. In fact, they're the fantasy I never made come true. But maybe this weekend can be more than an awkward walk down memory lane. Maybe now we can put our past behind us and I can have what I really want.
Them.
It's Wedding Season!
Something old,
Something new,
Will you say "I do"?
The best-selling authors of Flirt Club are at it again! This time we have sixteen couples heading down the aisle with our new Wedding Season collection of steamy, sweet novellas!

---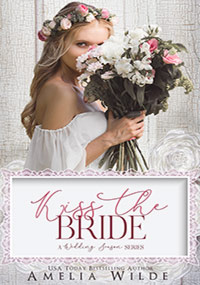 Kiss the Bride: A Wedding Season Series
by Amelia Wilde
Destination wedding? Check.
Gorgeous gown? Check.
All I'm missing is a fiancé.
I planned the flowers, the catering, and the guest list. I didn't plan on getting left at the altar in front of all my friends.
But I still want my dream wedding. And I just might get it…because hotter-than-sin Ash Montgomery has stepped up as a replacement groom.
There are only a few problems.
He's my older brother's best friend.
He is 100% off-limits.
And I've had a crush on him for years.
We can't get married today.
Right?

---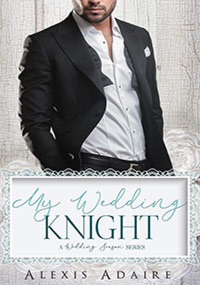 My Wedding Knight (A Wedding Season Series)
by Alexis Adaire
Abby: I have one job. That's it, just one: Babysit the bad-boy soccer hero for a week, so that he doesn't embarrass the entire country before his knighthood ceremony.
Everything goes according to plan until I somehow end up in his bed and on the cover of every tabloid in England, my heart shattered in a million pieces and my job in jeopardy. Brilliant, Abby.
Rory: What reason do I have to believe that this curvy blonde is any different from every other woman I've met? Sure, she's smart and beautiful and funny and amazing in bed and… did I mention those luscious curves? Right, I am definitely in trouble.
But trouble comes in many forms, and it's not until I've brought shame on the Crown and ruined the life of the woman I love that I realize the truth about who I am and decide it's time to finally do something about it.

---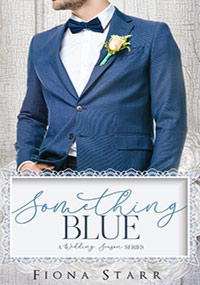 Something Blue (A Wedding Season Series)
by Fiona Starr
I plan everything… but I never planned for my forever.
Olivia: When Jesse left me at the altar, I thought I would never get over the shame. Three years later I've sworn off any desire for a wedding of my own, but nothing can stop me from planning the perfect day for every other bride out there. When a destination wedding brings me face-to-face with Luke Morgan and the humiliating past I've worked so hard to avoid, I wonder if I got it all wrong by running away like I did.
I let her go once without telling her how I feel. I won't make that mistake again.
Luke: I've loved Olivia Blaze since my best friend introduced her to me as his girlfriend. I ignored my feelings because they were meant for each other. But when he left her at the altar, she left town and took my heart with her. Now with a second chance to tell her how I feel, I realize it doesn't matter what happens; I just have to let her know so I can finally move on.

---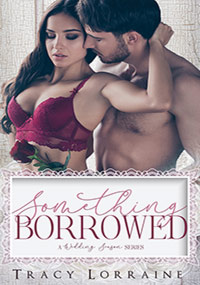 Something Borrowed
by Tracy Lorraine
I told myself it was just the thrill of the chase. That what I felt for her wasn't real. She was my best friend's little sister. She was off limits. Yet, the temptation was too much and I betrayed the only promise I'd ever made to her brother.
I touched her. I fell for her. And then I left her.
Now I'm standing at the altar as his best man ten years later, waiting for her to walk towards me. All I've got to do is prove to both her and my best friend that I'm worthy of her. If I get my way, the next time she walks down an aisle to me, she'll be in a white dress.
It should be simple…the maid of honor and the best man are meant to hook up, right?

---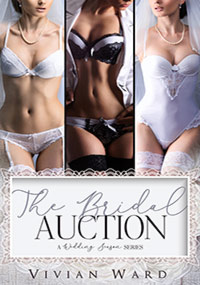 The Bridal Auction (A Wedding Season Series)
by Vivan Ward
Nothing could have prepared me for the highest bidder.
Selling my virginity at Club Kaswell seemed crazy but when Oliver Ford bought me, nothing could have prepared me for the kind of man he is. On the outside, he looks like a handsome professional but only sick, depraved men frequent this dark underground club.
Even as I exit the auction with my new owner–my soon-to-be husband––I know I have to get away from this man before he ruins me. He's everything my parents ever warned me about but my body betrays my mind at every turn, making it impossible to resist him; just one touch from this man shocks my body to the core.
I only have to pretend to be his for the next 30 days before I can leave but when the past comes knocking, he's the only one who can save me.

---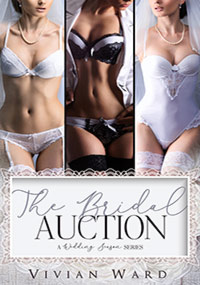 The Worst Man
by Rebecca Norinne
Imagine my surprise when I woke up next to my enemy wearing nothing but a wedding ring and a smile.
Attending a conference alongside Professor Hank Talbot is never a good time. Pretending we actually like each other is even less so.
So when he tells our colleagues that my idea of fun is to organize my sock drawer, I'm ready to show him I'm not the shrew he thinks I am.
From nightclubs to dive bars, we hit up all that Sin City has to offer— including Elvis's wedding chapel. That's right; Hank and I are the biggest Las Vegas cliche that exists. We got drunk, and then we got hitched.
But even worse than marrying a man I hate? His family just offered me $3 million to stay that way!

---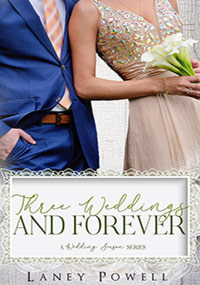 Three Weddings & Forever
by Laney Powell
It's amazing the difference a wedding can make…
Mallory: After my crash and burn with my long-term boyfriend, I've come to terms with the fact that I can't be trusted when it comes to picking men. I've decided just to play the field for a little while. No strings, no commitments, no fuss.
Then the king of all players, Sebastian Colton, catches my attention and I can't seem to look away. How will I ever find my forever when I can't pick something real?
Sebastian: I guess I'v earned my reputation. The fact is, I refuse to settle for less than absolute electricity, so I keep moving from girl to girl in search of that spark.
When I see my old friend Mallory having a showdown with her ex at a friend's wedding, I make do the right thing, stepping in and whisking her off to the dance floor. It doesn't take long for lightening to strike. But she's made it clear she's not looking for anything at all, especially with me and my reputation—how can I convince her that my bad boy ways were just trying to lead me to her?

---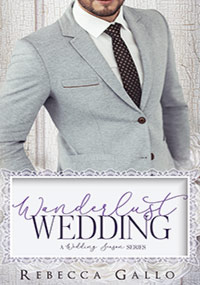 Wanderlust Wedding
by Rebecca Gallo
My secret could ruin everything…
After six blissful months together, I'm confident Milly is the one.
I have a ring picked out and vows written in my head.
But time has run out…
Her visa is about to expire and I don't want her to go. But I can't propose without revealing the truth, even if it causes her to leave without looking back.

---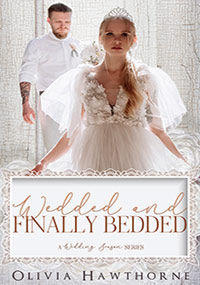 Wedded and Finally Bedded
by Olivia Hawthorne
Princess Sarah: I needed a husband.
My kingdom of Bosnovia needed a royal wedding to stir up tourism, but the man I picked at random was a coarse American with tattoos and a beard and no clue how to exist in this strict, regulated world of mine. I never used to like tattoos and men with rough edges, but I am beginning to…
But how do I tell him I might want to make this wedding official after the way I've treated him?
Vincent Othello: I needed a wife.
If I wanted to take over our family's multi-billion dollar business empire, not that I really wanted to. I enjoyed my lifestyle, a new woman in my bed each night and no cares in the world. When my parents threatened to cut me off if I didn't grow up, they set their sights on getting the Othellos a royal title.
But when I saw Princess Sarah, I fell hard for her. Her disgust let me know where I stood though, so I went through with the sham wedding in name only. Now I can't stop thinking about her and wanting her, and needing her in our marriage bed.
Will I be able to convince her to say yes a second time?

---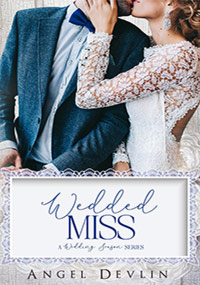 Wedded Miss
by Angel Devlin
I… DON'T.
Sherry: I'd had cold feet before I'd met Tyrone Neill. But he'd brought an arctic freeze. Now I stood at the altar marrying the supposed man of my dreams, except I'd not been dreaming about him…
Then the wedding stopped.
What's the protocol for a bride and groom standing at the altar who don't want to marry each other anymore?
Ty: I looked at the stunning princess bride and watched as she walked toward the wrong prince. Now he stood at the altar marrying the woman of my dreams…
Then the wedding stopped.
What's a decent amount of time before making a move on a jilted bride? I'm guessing not thirty-seven minutes?

---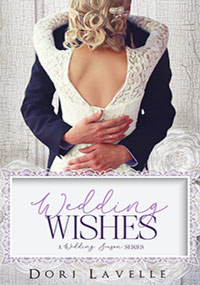 Wedding Wishes
by Dori Lavelle
Wedding Wishes is a bittersweet love story that follows the story of Caleb and Ellie from Mr. Maybe (The Matchmaker Series).
When Caleb LaClaire put the engagement ring on my finger, I thought it was a done deal.
Now it's three months before our wedding. The date is set. The dress is just right. But the groom is not ready. It starts with a feeling that something is not right. He's pulling away. I don't understand why.
Then out of the blue, he breaks my heart. The wedding is off and he won't tell me why. Maybe I already know. Before we fell in love, he was allergic to relationships. Maybe marriage is too far out of his comfort zone. But where does that leave me?
Heartbroken and determined to forget him, I prepare to move on with my life. But my heart refuses to let him go. I need answers before I can start again. The only way is to come face to face with the man I loved and lost.
What if my heart gets broken all over again?

---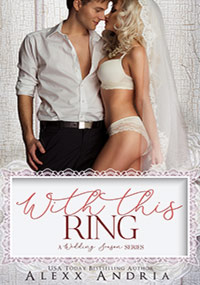 With This Ring
by Alexx Andria
She's everything I never knew I needed—and she turned my life upside down.
I was expecting an interior decorator not a pint-sized tornado of quirky laughter and sunny smiles.
Kitt Eversen blew into my orderly life like a bad idea wrapped in temptation and I knew I had to steer clear or she'd make a mess out of my life.
She's everything I'm not—my complete opposite. If it weren't for my business partner hiring her to redecorate our new office, our paths would never cross.
But she's here now and we're forced to work together. I just need to get through the next couple of weeks without losing my mind…or my heart.

---
Genre: Anthologies, Contemporary Romance, New Adult, Romance
"A Wedding Season" series is now available | Flirt Club Books