2 Comments
Three Free Paranormal Romance Nooks this Tuesday!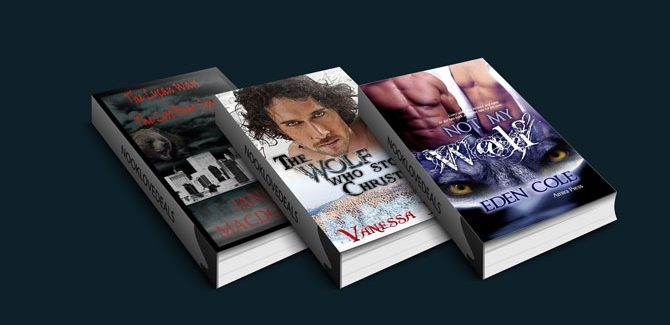 "Not My Wolf (My Wolf Book 1)" by Eden Cole
Corey's Beta invites him on a double date, and Corey goes hoping this woman will be his one. To his shock and disbelief, he's attracted to her brother instead—the big, muscular, overbearing man with a southern drawl. When Devin gets into trouble with a rival pack, Corey will move heaven and earth to get him back and claim him for his own.
"The Lycan Wars: The Lost Bear Spirit" by Janet MacDonald
Refusing to Mate with the man her father had chosen for her Shea Valtor leaves her pack. Now another seeks to make her his unwilling mate and the only one who can stop it from happening is her friend Scott. However Scott doesn't seem interested in her and Shea will need to find a way to change his mind.
"The Wolf Who Stole Christmas" by Vanessa Jaye
Once upon a Christmas time, Santa's daughter Holly had to choose between two men—a love sick Jack Frost, or a tightly disciplined werewolf name Furio. Sure, she could melt the powerful Elemental's lonely heart but can she bring out the animal in a wolf afraid to love again?