No Comments
Free Three Fantasy Kindle Books this Monday!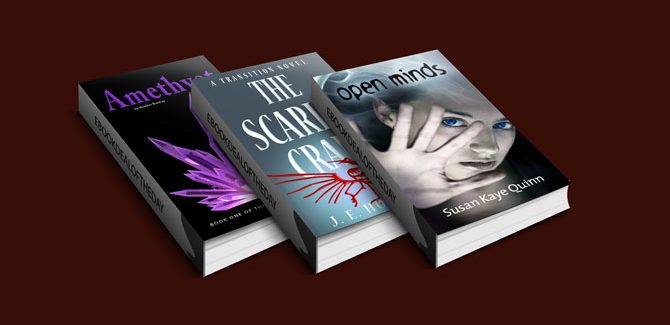 "Amethyst (#1 of the Guardian series)" by Heather Bowhay
College-bound Lexi Adams leads no ordinary life. Premonitions dictate her every move, compelling her to rescue strangers day and night. After years of self-sacrifice, she decides to ignore one, but innocent people die. So, when the next premonition depicts her own death, Lexi is faced with the decision of a lifetime. As if an ill-fated future isn't enough to deal with, a series of strange illnesses and murders devastate her small town, and co-worker Jessica Nelson insists Lexi can help.
According to Jessica, everyone is born with an inner energy called Essence. Only a select few, Amethysts, can control Essence and heal people. Jessica claims to be an Amethyst and asks Lexi to join her and a group of her friends as they track the murderers. Despite her personal plight, Lexi considers joining them.
Then again, Lexi discovers secrets run deep among Jessica's friends. Not only do they have a hidden agenda, but they also harbor extraordinary abilities. And they have connections with the Ray-pacs – the sadistic killers who are preying on human Essence. Ultimately, Lexi must decide if life, not death, equals salvation. And if so, is she willing to make certain sacrifices and join her friends in eradicating the Ray-pacs?
Amethyst is the first novel in the Guardian series, a spellbinding, young adult, urban fantasy series. One that wouldn't be complete without a love triangle at the heart of the story.
"The Scarlet Crane (A Transition Novel)" by J.E. Hopkins
Transition. The one-month period during early puberty when all children have the power to perform magic. But with a monstrous catch. The magic must be unique and flow from the true desire of the child, and no one else, or the child dies. Few take the risk. Almost all who do, perish.
Rumors have surfaced of a rogue Chinese program that circumvents Transition's deadly restrictions. The year is 2014 and the Chinese are seeking to exploit magic for geopolitical domination, using kidnapped children as disposable pawns. An agent for the US Department of Transition Security investigating the reports has been found murdered in his Hanoi hotel room.
Dr. John Benoit is ordered to take any action necessary to protect the US from magical threats. John and Stony Hill, his pierced and scarlet-haired young partner, race to pick up the bloody trail, following it to Bangkok, Zurich, Shenyang, and ultimately to a confrontation on the snow-swept plains of North Korea.
Against this global pursuit, the seductive terror of Transition is brought to vivid life by glimpses into the lives of five children:
Thanna, sold to the Chinese, wants to use magic to free Crane's children.
Anya believes Transition can save her from the winter streets of Moscow.
Isa confronts Transition as part of an ancient African puberty ritual.
Sarah, terrified of magic, feels compelled to use it to stop her friend's sexual abuse.
Jonah is convinced he's found a unique way to cure his sister's cancer.
"Open Minds (Book One of the Mindjack Trilogy)" by Susan Kaye Quinn
When everyone reads minds, a secret is a dangerous thing to keep.
Sixteen-year-old Kira Moore is a zero, someone who can't read thoughts or be read by others. Zeros are outcasts who can't be trusted, leaving her no chance with Raf, a regular mindreader and the best friend she secretly loves. When she accidentally controls Raf's mind and nearly kills him, Kira tries to hide her frightening new ability from her family and an increasingly suspicious Raf. But lies tangle around her, and she's dragged deep into a hidden underworld of mindjackers, where having to mind control everyone she loves is just the beginning of the deadly choices before her.