No Comments
The Sweet Spot, Book 1 by Monica Myers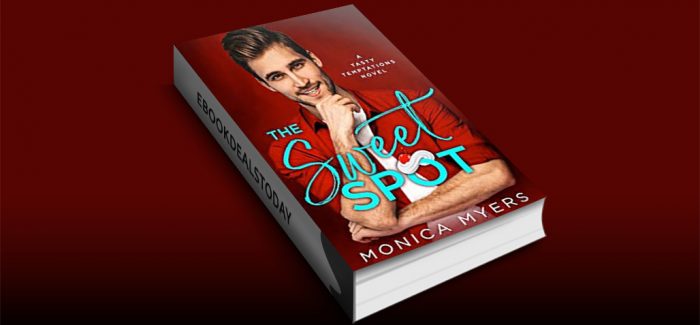 Realtime Price – $0.99
Crazy exes and cupcake flexes…
When you own a bakery specializing in erotic-themed treats, life is bound to have its share of comedic mishaps. Meeting the man of your dreams after he mistakenly locks you in a six-foot cake? Well, that one definitely takes the, er, cake.
World-weary workaholic Erin Donavan has made peace with her single status. So when smart and charming attorney Nolan Reid enters her life via a meet cute for the ages, Erin's guard is up. She's been sweet-talked before and all she has to show for it is a borderline-creepy ex who can't take a hint. Thanks, but no thanks.
Nolan has his own clingy ex, but right now he's not thinking about her. He's too busy wondering if it's Erin's desserts or her lips that have his mouth watering. If only Nolan could be sure he isn't destined to turn into his shiftless father, he might be able to admit he and Erin have all the right ingredients for lasting love.
Of course, there are still those meddlesome exes to contend with…
Together, are these two nothing but a hot mess—or can they hope to find the sweet spot?
Genre: Romance
The Sweet Spot (Tasty Temptations, Book 1) by Monica Myers