No Comments
Cursed at First Sight: A Witchy Cozy Mystery (Cursed Coven Cozies Book 1) by Daphne DeWitt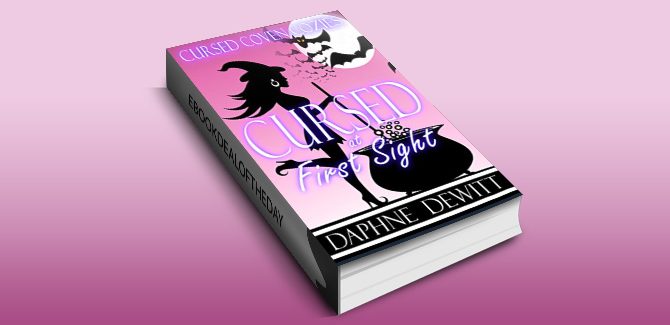 Realtime Pricing:N/A

Malady Norwood's curse is starting to become a real witch

All of the Norwood witches in the mountain town of Cat's Cradle are cursed and they have been ever since anyone could remember. Of all the curses in her twisted family tree though, Malady's had to be the worst. Stricken so that any happiness she feels will bring disaster to herself and those she cares about, Malady has spent her life walking a tightrope between what she wants and what she knows her family needs.
After her latest ill-fated attempt a normal life leaves her ex fiance hating the sight of her and her Aunt Misty's leg broken in three places, Malady decides to head back to her southern home to, put her law degree to use, and help her beleaguered aunt run the family's small law firm.
Things take a tumultuous turn when Malady's high school nemesis turns up dead and her old boyfriend is fingered for the murder. Now it's up to Malady to clear his name and find the real killer. That is, if she can navigate through the world's wackiest witch family, keep out the dead girl's ghost (who's whispering mean nothings into her ear), and keep her aunt's law firm out of the aggravating- and infuriatingly charming- hands of her new hunk of a business partner. Oh yeah, and then there's that pesky curse to deal with.
Curses take all shapes for the witches of Cat's Cradle. So come, sit a spell, and get Cursed at First Sight!

Please Note: This book was previously published under the JC Kilgrave name. It has since been re-edited and over 20%, new content has been added.


Genre: Cozy Mystery, Supernatural