No Comments
The Alpha Wolf's Human Mate by Brittany White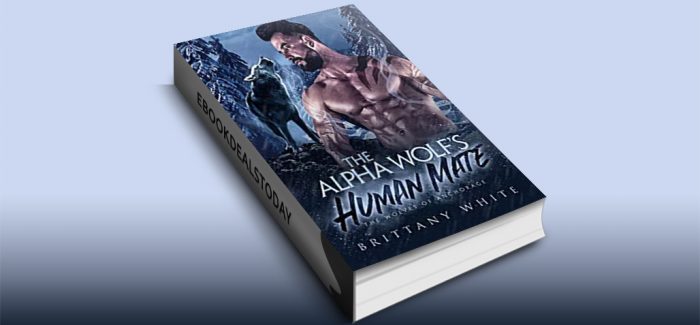 Realtime Price – $0.99
After her mate lied to her for months, she vowed never to trust him again.
The Human Nurse
After my ex-fiancé lied to me and cheated on me, I left Louisiana for good.
I moved far away from my home, all the way up to Anchorage, Alaska.
Starting over was tough, but I was committed to my new life.
I knew I could be happy without a man.
But I wasn't single for long.
I met Knox when he brought his nephew to school.
That gorgeous man was hot, and he was a loyal uncle,
stepping in to help with his niece and nephew while his sister-in-law had a baby.
He asked me out, and I said yes. In spite of my reluctance, I fell for him.
But every now and then, I noticed that there was something off.
I couldn't put my finger on it.
My gorgeous boyfriend had secrets. I just didn't know what they were.
Then I found out in the worst way possible.
I was attacked by Knox's enemy, and my boyfriend transformed in front of my eyes.
He was not a human, but a wolf shifter.
I could accept that, eventually, but I could never accept his deception.
Now that he'd lied to me, could I ever trust him again?
The Wolf Shifter Playboy
My pack never had any faith in me.
And neither did my parents.
When I asked for permission to apply to work at a law enforcement agency,
my Alpha told me no. He thought I was worthless as well.
Instead of cleaning up my act, I rebelled.
I became a lazy, drug-addled, good-for-nothing shifter,
one who had no purpose beyond partying, sleeping around,
and wasting all of my parents' money.
But all of that changed when I met my Jen.
She was gorgeous and sexy, and I wanted her to be mine.
We started dating, and my life was bliss.
There was a big problem – Jen was a human, so our relationship had no future.
I knew I had to break it off, eventually.
But then Jen was attacked.
While she was in danger, I felt our bond.
It dawned on me that she was my mate.
Her life had been threatened, and I would do anything to protect her.
Even give up my own life to save hers.
After deceiving her, could a wolf shifter gain his human mate's trust again?
Note: Adult Only!
Genre: Paranormal Romance
The Alpha Wolf's Human Mate (The Wolves of Anchorage, Book 6) by Brittany White