No Comments
The Charlie Crawford Palm Beach Mystery Series: Books 1, 2 & 3 by Tom Turner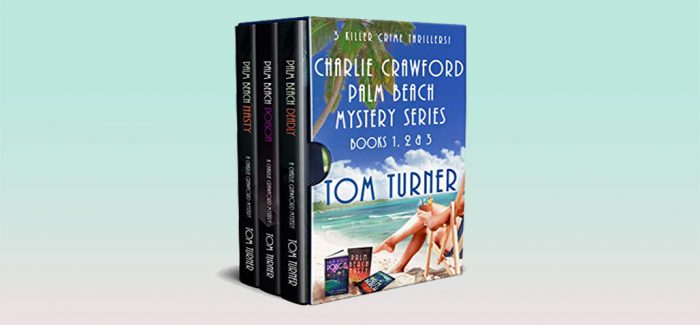 Realtime Price – $8.99
Palm Beach Nasty
Burned out by high-profile murders in New York and his love life splashed all over Page Six, homicide cop Charlie Crawford heads south and signs on with the Palm Beach PD. After months of petty crimes, he's first on scene to find a man hanging from a banyan tree. Prime suspects are a hedge-fund billionaire with a thing for young girls and a bartender with a sketchy past and a ten-out-of-ten creep factor. Right in the middle of it all is Crawford's girlfriend, a beautiful, conniving gallery owner, ready to do whatever it takes to move up a bracket or two. Add to the mix a sultry real estate broker who knows where all the bodies are buried, a gorgeous forensic cop often one step ahead of Crawford, a Mutt and Jeff combo of stone cold killers and you've got Palm Beach Nasty.
"Taut and efficient," Booklist said, and added, "it's a pleasure to watch craftsmen at work, and that describes the author as well as the cops."
Palm Beach Poison
Vasily Zinoviev is the last man on earth you want to say no to. Just ask the "working girl" who suffered a horrible death while skinny-dipping in a pool one night. Or the president of the prestigious Poinciana Club who's sorry he ever laid eyes on the ruthless Russian.
Living in a $20 million oceanfront mansion with a harem of mistresses, Vasily and his brother are more than a handful for Palm Beach homicide detective Charlie Crawford. But throw in a vengeful ex-wife, a vicious hit man, a mysterious tycoon–even more diabolical than the Russians– and you have Palm Beach Poison, proclaimed by Kirkus Reviews a "relentlessly diverting mystery" and "briskly paced fun."
Palm Beach Deadly
"Deadly delivers an entertaining, and amusing, ride." – Kirkus
Talk show host Knight Mulcahy makes $65 million a year insulting people.
Until the night he's found, skivvies around his ankles, a bullet in his heart.
Enter Palm Beach's finest: homicide cops Charlie Crawford and Mort Ott, who proceed to go in circles as the suspect list ramps up to double digits. Sin, scandal, murder… if you've read Nasty and Poison, you know the drill! Kirkus said, "readers who enjoyed the previous two installments [of the Palm Beach series] will welcome the return of Charlie Crawford, still cynically charming and dashing."
Genre: Crime, Mystery & Thriller
The Charlie Crawford Palm Beach Mystery Series: Books 1, 2 & 3: The Charlie Crawford Palm Beach Mystery Series Box Set #1 by Tom Turner