No Comments
Shifters Fated Mates by Brittany White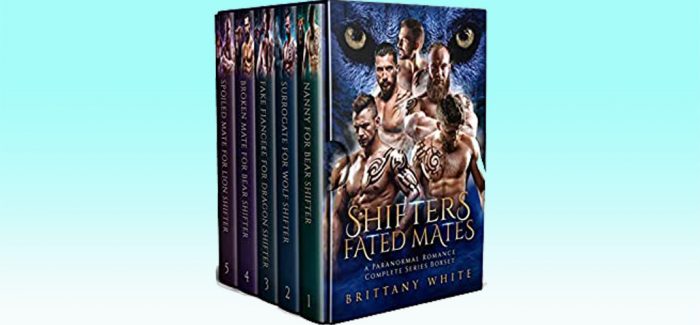 Realtime Price – $2.99
Can a shifter overcome his blindness before it's too late and he loses his fated mate forever?
Spice up your day with this page-turning Boxset. Perfect for those who love alpha protectors, shifters, and steamy adventure.
Book 1 – Nanny For Bear Shifter
"One night of passion and I'm gifted with a secret baby."
My fantasy has come true and I spend the night in the arms of my crush – a sexy bear shifter. One night of passion and I'm gifted with a secret baby – who looks just like her father. I am a wolf shifter, and our clans are not friendly. I spend my life protecting my baby's identity to keep her safe from her father's family who would steal her away. I escape to the human world – and run straight into her father. I'm caught between love and protecting my baby.
Book 2 – Surrogate For Wolf Shifter
"I made the mistake of falling in love."
Do fairy tales come true? When I decided to be a surrogate, I met my Prince Charming. He was the sperm donor for the baby I carried. We had a no strings attached contract, but unfortunately, my heart didn't follow the rules. Now, I'm in love with a man, the father of the baby I carried, with no hope of making my dreams come true.
Book 3 – Fake Fiancée For Dragon Shifter
"A fated mate, fake marriage, and a broken heart."
Spilled coffee, dropped files, and scheduling issues were the hallmark of my career as an executive assistant for a billionaire dragon shifter, Sean. As soon as I laid eyes on him, butterflies exploded inside of me, and my heart stopped. He was the sexiest dragon shifter I had ever seen in my entire life. I was a bear shifter, but he thought that I was a regular human. I figured that he didn't need to know, so I never bothered to tell him. If only I had known how that would complicate things later. Can a fake engagement with a dragon shifter end with real love?
Book 4 – Broken Mate For Bear Shifter
"Dating App = A Conflict Between my Heart and my Head."
I hated signing the divorce papers. Thayden had been my love forever. But the abusive Thayden I was married to was not the lion shifter I had fallen in love with. Trying to help me overcome the depression from my failed marriage, my friends suggested a dating app. A hot bear shifter, Kane, hit me up almost immediately. He was sweet, and considerate, and did I mention hot? A lion shifter also messaged me. He was mysterious but sounded very sweet. We seemed to have everything in common. How can I choose between two men? My heart told me that one of these men was my fated mate. My head told me that the other man would make my dreams of a loving family come true. Will I be able to discover the truth in time to save myself and my love for my fated mate?
Book 5 – Spoiled Mate For Lion Shifter
"Torn Between Two Worlds – The World She Knows or The World Where Her Heart Is."
Raphael was going to be made Alpha of his clan in the next couple of months. He needed to find himself a mate and fast. The problem was that all of the female lion shifters in his clan were unsuitable. Lexi's father passed him a picture of the woman, and Rafi was instantly smitten. He traveled to the human world to meet her and to see if she would do as the Alpha's mate. Rafi fell in love with her. However, his parents and most of the shifters in his clan told him that she was too human to be his mate. So, he did the unthinkable. He broke her heart by telling her that she just wasn't good enough. Would he be able to stand up for his heart and his love in time? Or was it too late for him to mend her broken heart?
Each book in this series is full of sizzling chemistry, passion, heat, and humor. With No cliffhangers, no cheating, and plenty of steam this is one boxed set you do NOT want to miss!
Note: Adult Only!
Genre: Paranormal Romance
Shifters Fated Mates: A Paranormal Romance Complete Series Boxset by Brittany White