No Comments
Shifter Protection Agency by Brittany White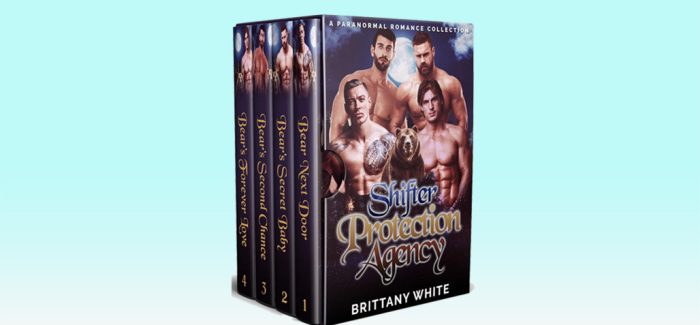 Realtime Price – $0.99
Tall, muscular and just a little broody.
They'll as soon steal your heart as protect it.
But when forbidden trysts prove feelings too passionate to ignore, desire leads the way…
Four Smoking Hot Bear Shifters of the Shifter Protection Agency are known as much for their fearlessness and courage as they are for their irresistible good looks. These brothers will keep you up all night long… and will leave you breathless!
Bear Next Door
Ever since Laura Ward saw a Bear Shifter as a child, she's been determined to prove their existence. But when she moves to Mystic to hunt them down, the sexy Doctor Sam Miller is way more of a distraction than Laura bargained for.
Sam is certain Laura is his mate, but he has secrets of his own…will the avalanche of truth bury their happily ever after?
Bear's Secret Baby
Feisty billionaire heiress Tori Griswold is used to the finer things in life. Being stuck in Mystic is not her idea of fun, until she meets her bodyguard: tall, broody and totally off-limits William Vance.
As their chemistry becomes a force of its own, a night of passion takes the bear shifter and heiress by surprise. But can Tori trust William enough to reveal her life-changing secret?
Bear's Second Chance
Axel Hansen has always been haunted by memories of the one shifter he couldn't save. But when Anika Desai turns up alive and well in a viral video, Axel's old feelings reignite.
Anika hadn't counted on Axel tracking her down and as sparks begin to fly, she wrestles with her attraction to him. But will Anika's determination to find a killer stop their love from ever getting a second chance?
Bear's Forever Love
Bear shifter Even Michaels has always been devoted to the Shifter Protection Agency. But there's one witch Even wants by his side for reasons other than her protection: his dream girl and mate, Stella Greenwood.
For her part, Stella has found Even's hard-muscular body and passionate personality impossible to ignore. But after a disastrous first date, will past demons rear their ugly heads and destroy Even and Stella's hopes of love?
Spice up your day with this page-turning Boxset. Perfect for those who love alpha protectors, shifters, and steamy adventure.
Note: Adults Only
Genre: Paranormal Romance
Shifter Protection Agency: A Paranormal Romance Complete Series Boxset by Brittany White