No Comments
Secrets In Our Scars by Rebecca Trogner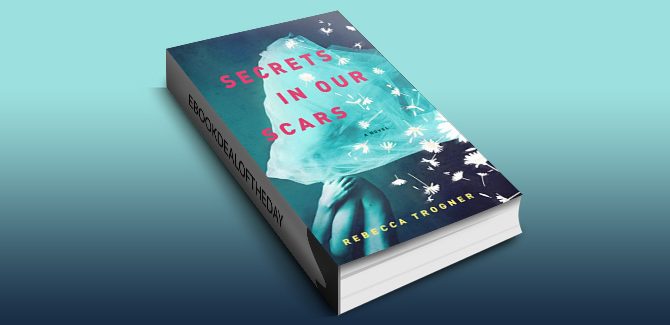 Realtime Price – $2.99
A sexy romance. A twisted mystery. One mistake can change everything.

On a sweltering summer day, Daisy Aldridge knocks on the wrong door. Yanked inside. Trapped and pressed against her only means of escape she spirals into a panic. Years ago she suffered an assault. Alone and afraid, she kept it hidden and dealt with the emotional aftermath in her own way.
But this time she's not alone. She's helped by a man who seems vaguely familiar. Roy Blackwood is massive, muscled, powerful, and controlled. She tells herself she wants nothing to do with him.
Roy sees through her resistance. He wants her. Needs her. He promises to find the identity of her birth parents and unveil the person who leaves her anonymous gifts. And most important of all, earn the love and trust of Daisy Aldridge..
A standalone, full-length romance.
****
"Kiss me." He gently runs his fingers through my curls and pulls my head to meet his lips.
I grab hold of his shirt to pull him further down to me. "Yes," I whisper.
His lips are soft and taste of wine. He groans. Warmth blooms through my chest. His right arm slips down to wrap around my waist. Suddenly, I remember another man with harsh hands yanking my hair and forcing me to kiss him. I try to still my heart, try to calm myself, but I'm too lost in the memories and struggle against Roy.
Instantly, he releases me and steps back.
I stumble and grab hold of the wicker chair to steady myself. "I'm not…" I reach out to his chest, my hand hovers between us until he steps in and my hand rests on his hard abs. "I'm sorry. You've been kind." My hand drops. "I wish…I'm not capable."
"Tell me." He's staring at me like he's searching for a missing puzzle piece. "Is it my size? Is there another man? What is holding you back?"
I've been deluding myself thinking anything could happen between us. "I'm frigid," I blurt out.
I expect him to laugh, or walk away, but there's only silence. When I finally can't take the suspense any longer, I raise my head to see his kind eyes.
"Why would you think such a thing?"
It's the truth, my truth. "We better get inside before the mosquitos eat us alive."
"Tell me why you think this."
Like telling him would make things right? If only it were so simple. "It's the way I am."
"No." He opens the door for me. "There nothing frigid about you." His hand presses against the small of my back as I walk through. "Maybe you've had some shitty sex and it's messed with your head. You'll have to trust me when I tell you that won't be the case between us."
I stop and look into his eyes. "You shouldn't waste your time on me."
He leans in to whisper in my ear. "I like a challenge."
Genre: New Adult, Mystery, Romance
Secrets In Our Scars by Rebecca Trogner