No Comments
Sanctuary's Soldier: The Darkspace Saga Book 1 by B.C. Kellogg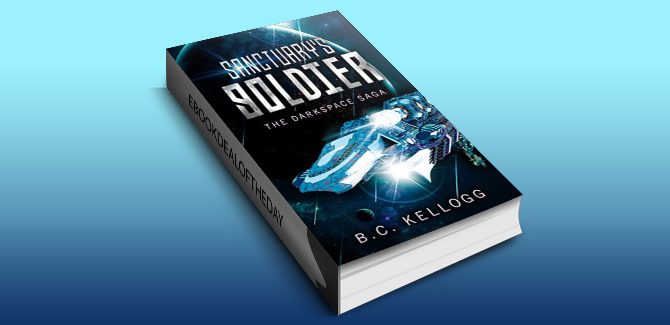 Realtime Pricing:$3.99

Conrad Redeker can hear the song of the stars echoing in his blood.

Sanctuary was once called Earth. But now, it's refuge for the last remnants of the human race. As the Sanctuary High Council searches for the few humans scattered and hidden throughout the quadrant, a threat looms on the horizon-a threat that only the Protectorate Corps can answer.
Conrad was an orphan on a smuggler's barge when the Protectorate Corps found him and took him in as one of their own. He vows to serve Sanctuary for life, but struggles to ignore the siren call of his mysterious heritage-one that drives him to reject the home, woman, and military rank assigned to him.
Commissioned as a Protectorate Agent, he leaves the safety of the Sol System to return humans to Sanctuary-and to seek his own destiny. As he encounters one alien species after another, the whispers in the dark are impossible to ignore: a powerful empire is coming. It's coming for humanity.
Fans of Star Wars and Firefly will enjoy this action-adventure space opera.

Genre: Science Fiction