No Comments
Rise Again After Divorce by Sara Gibbons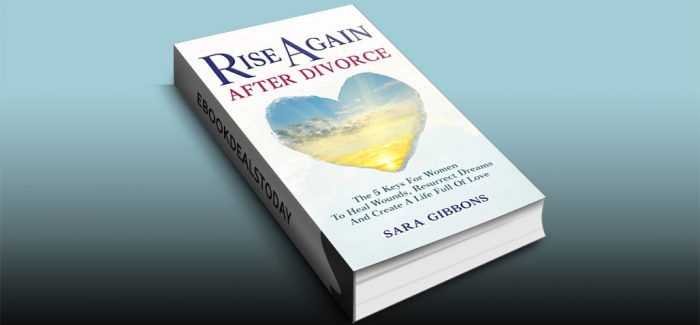 Realtime Price – $5.02
Are you having trouble coming to terms with a divorce or the loss of a close relationship?
Maybe you are feeling lost, alone and insecure after your breakup?
Divorce can leave you emotionally raw and vulnerable, and it can take months, years or even decades to get back on an even keel.
Discover the 5 keys that will show you how to climb out of that pit of emotional pain and get back on track fast for a life filled with peace of mind, optimism and purpose.
Sara Gibbons has been a lifestyle strategist and health practitioner for over 20 years and has successfully helped hundreds of clients improve and move on in their lives during this time. She has a degree in sociology, and extensive training, experience and qualifications in counselling, nutrition and personal development, as well as a variety of other healing therapies and disciplines.
Having been through a painful and debilitating divorce herself and come out the other side with a huge passion for and delight in life, her purpose here is to guide you and help you create what you really want for yourself.
'Rise Again After Divorce' covers in a practical and engaging way how to implement the 5 keys that are critical to turning things around for you.
recognising the importance of you and how that leads to your improved sense of self-worth
revealing new understandings of what has been happening, and why, giving you peace
the cause of why you find yourself where you are, leading to a greater sense of acceptance
how to develop your vision for the future and create the life you want with joy
the importance of support and how to get it, opening you up to an abundance of love
Let Sara show you how to get in the driving seat of your own life so you can avoid repeating history and move forward with a clear purpose.
When you know both what to do and how to see it through in an effective and powerful way, you will find that your whole life will change. You will feel more confident and have hope for your future. You will be able to leave the past where it belongs, make your dreams for the future a reality, and know how to skip around any stumbling blocks that threaten to prevent that happening.
'Rise Again After Divorce' is for you whether you're feeling helpless and hopeless about your divorce, simply want some tips to help understand more and make further improvements in your life or are most definitely ready to leave the past firmly where it belongs and move on in style.
If you want to get yourself and your life back, then 'Rise Again After Divorce' is a must read.
Genre: Non-Fiction, SelfHelp
Rise Again After Divorce: The 5 Keys For Women To Heal Wounds, Resurrect Dreams And Create A Life Full Of Love by Sara Gibbons