No Comments
Enslaved by Sansa Rayne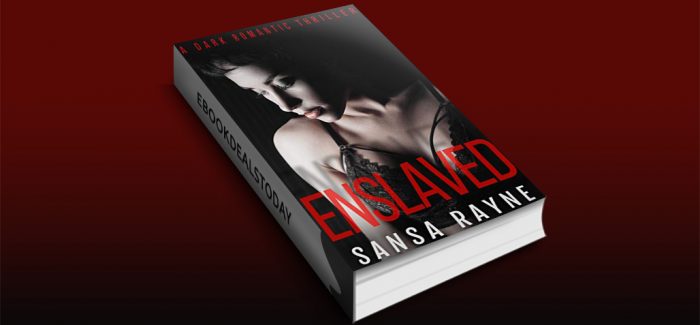 Realtime Price – $3.99
"They may own me, but they'll never control me."
QUINN
I tried running, but he followed me. I hid, but he found me. I couldn't escape, so I defended myself. Now he's in a coma, and I'm in prison.
Except, the Walker Center isn't a normal jail. In here, inmates work. Twelve hours a day, every day. If we misbehave, vicious guards punish us. They strip away our dignity, turn us against each other and rob us of our sanity. No one leaves, except as property.
My only hope may be Reed Nolan, an unapologetic sadist on a mission to break my spirit. He torments me every day, delighting in my pain. Defying him awakens intoxicating, dark desires. My perverse need to be dominated becomes my secret weapon, with every stroke of his whip powering my will to survive, to fight the evil of this place.
My captors are going to pay for what they've done. I want to open Reed's eyes, to turn him against the monster he serves, but if I can't, I won't let anyone stand in my way…

"The truth may set you free, but it'll still hurt."
REED
For most of my life, I've called Lance Prescott a friend. His father, a popular congressman, got me my job at the Walker Center. If not for him, I'd have nothing. So when I learn Lance will never wake again, I vow to make Quinn Harris suffer.
I don't expect her to resist her captivity, to overcome the despair and hopelessness of her new reality. And when she tells me what really happened to Lance that night, my whole world begins to unravel. Falling for Quinn means questioning everything I thought I knew about the Prescotts, the prison and all their crimes. To win her love, I'll have to face the hardest truth of all: that I've been a villain, not a hero.
Helping Quinn means challenging a massive criminal conspiracy. They're not afraid to make people disappear – they'll bury anyone who threatens their empire. Fighting them could cost me everything, but I've been complicit in their evil for too long. I'll do anything to bring them down – even if it means gambling with our lives…
Publisher's note: "Enslaved" is a dark, romantic thriller with explicit sexual content, no cliffhangers, no cheating and a HEA. It contains material some may find disturbing. Reader discretion is advised.
Genre: Romance
Enslaved: A Dark Romantic Thriller by Sansa Rayne