No Comments
The Red Veil Diaries (Volumes 1-4) by Marianne Morea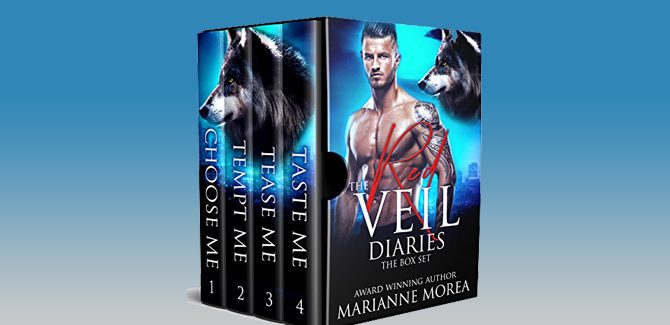 Realtime Price – $6.99
Welcome to the hottest vampire club in New York City! The Red Veil!
Vegas got nothing on what happens here…

CHOOSE ME… introducing the Red Veil Diaries
Never one for the party scene, Rose Landry is content with life. Quiet but independent, she has a bright career, friends and family. She's comfortable, and exactly where she always thought she'd be. But something is missing. A need she's denied until a chance meeting brings her face to face with a shadowed world she only dreamed existed, awaking her most wanton, secret desires. His name? Miguel León. Seductive and dark, he opens her to pleasures that only live in fantasy and the supernatural, leaving her craving more of him, and where their passion might lead.
TEMPT ME
The Vampire Bitch. Control is something Abigail Bigly lives for—that and watching those beneath her, twist. She's scratched her way to the top of New York's vampire inner circle, reveling in her position as proprietor of The Red Veil, the city's trendiest hot spot and underground center of their shrouded domain. However, being a member of the vampire elite doesn't mean you can deny your master. When she's ordered to work closely with one certain Were, she can't refuse no matter how strong the attraction.
The Forbidden is the Hardest to Resist. Sent to help keep New York's shadow houses clear of the deadly virus that nearly wiped out the vampires of New York, Dash Collier has his work cut out for him. Especially when teamed with a woman who'd sooner tear his heart out and eat it than look at him. But neither is prepared for the rush when dangerous passions ignite, crushing old taboos. Is it simply hate-born lust or could it be something more?
TEASE ME
Annika Lee had it all. Rising fame, quick money, and a shot at stardom. The kind of life any small town girl would want, especially a Were raised in the secretive, close-knit world of the bayou. That is until her dreams went up in flames with a single bullet. Hounded by the paparazzi, she escaped to the one place she could hide in plain sight.
Derick Bergeron is no stranger to being alone. He prefers his life the same way he likes his sex. No strings. No questions. When a certain woman crosses his path, he finds himself strangely captivated, her presence blurring more than just physical boundaries. More than passion ignites when shared secrets unleash desires neither can deny. But the moon has more in store when Annika's past threatens the life she wants. Is this just a tease of fate, or could it be more?
TASTE ME
After jilting her at the altar, Jace Matthews is the last person Daisy Cochran wants to see. Five years later she'd still as soon shoot him as look at him, so when chance gives her the opportunity, she goes looking for answers in the most unlikely of places—a vampire club in the heart of New York City—not the place you'd expect to find rival Weres from a small ranch town in Texas. What she discovers stuns her to the core, as is the realization she now longs for what she's been taught to despise. Secrets and deep-rooted prejudice can't stem her feelings for the man she still loves or the forbidden passion leaving her with a taste for more than just his kiss. Can the two get past what they've been taught to hate and straddle two worlds as well as each other? The stage is set for a passion so strong it might be the undead version of High Noon.
Genre: Paranormal Romance
The Red Veil Diaries (Volumes 1-4) by Marianne Morea