No Comments
Quarterback Dragon's Secret Admirer by Brittany White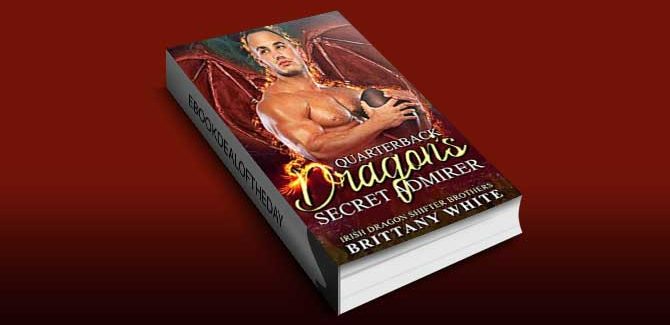 Realtime Price – $2.99
An American quarterback finds himself falling for a human woman. But he soon realizes that the woman isn't who she claims to be.
The Sophisticated Female Fae
When I was a child, my parents destroyed our tribe, and our family.
They turned their backs on me and my brother and sister.
After our parents left, our tribe shunned us too.
I vowed to never fall in love, and for over a decade, I've stayed true to my word.
I've spent the last few years traveling the world and dating powerful males.
But I never let them get too close.
The people I date are high-profile, and they don't want to settle down.
My only commitment is to myself.
But one day I chose the wrong man.
Or maybe he's the right one, now that I know the truth.
I thought he was human, but this gorgeous male is more than a man—he's a dragon shifter.
I find myself falling for this sexy dragon, but love is not part of my plan.
The Quarterback Dragon Shifter
After years of struggling in foster care, I was adopted by humans.
From my earliest memories, I knew I was different.
I had to be careful—that's what everyone said.
I was stronger and faster than all the other children, but I never knew why.
Football was my only outlet, and the way I channeled my energy.
Then I found out the truth—I'm a dragon shifter.
Now there's something odd going on—
Someone's sending me love notes, rare unusual flowers, and my team is winning every game.
But all of that fades away when I see her at my game.
She's beautiful and mysterious, and I can't get her out of my head.
I've never felt like this before
But she lied to me about her identity.
Even if she's my one true mate, can I ever forgive her?
Is it possible for a dragon shifter to start a new life with his Fae mate when they're both still holding onto the past?
Note: Adults Only!
Genre: Paranormal Romance
Quarterback Dragon's Secret Admirer (Irish Dragon Shifter Brothers, Book 17) by Brittany White