No Comments
THORN: Lords of Carnage MC by Daphne Loveling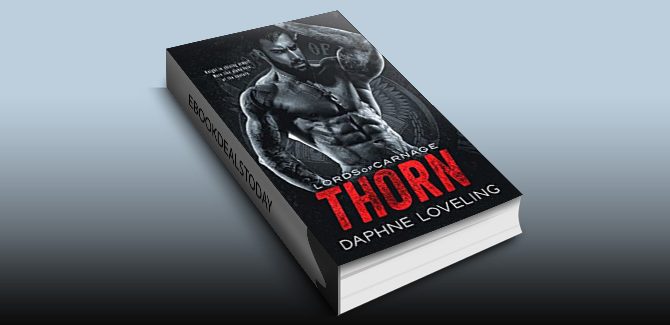 Realtime Price –
Knight in shining armor?
More like alpha-hole of the century.
ISABEL
He's dark, rude, brooding and mean – and he's my new bodyguard.
My father Oz is the president of the Death Devils MC. He wants me safe, and out of the way.
And unfortunately, Thorn is the man he's chosen for the job.
I don't need a babysitter. I've been taking care of myself for a damn long time now.
I don't think sexy, alpha Thorn is too excited about it either.
But I'll be damned if I'll make his life any easier.
I hate him for abducting me.
I hate my father even more for thinking I'm some fragile flower.
But what I hate most of all is the way Thorn makes me feel when he says dirty, filthy things to me.
I want to fight him. I need to resist.
But the harder I try, the more I realize I can't keep fighting forever.
THORN
She thinks I'm a f*cking asshole. She's not wrong.
Protecting the rival MC president's daughter is definitely not on my g*dd*mn bucket list.
When I get stuck with Isabel, I know from the beginning it's going to be a sh*t show.
Her own father is keeping her in the dark about how much danger she's in.
All she knows is I'm holding her prisoner against her will.
I don't expect Isabel to understand.
But my prez makes it crystal clear: I can't mess this up.
If anything happens to her – anything at all — the shaky alliance between our two clubs will fall like a house of cards.
It'll be all out war. And it all hangs on me.
Even though I'd f*ck her in a heartbeat, I know I shouldn't.
Shouldn't touch her.
Shouldn't taste her.
Shouldn't bring her to my bed and make her scream out my name until her throat is raw.
But I've never been a man who lives by what I shouldn't do.
And it's only a matter of time before I've crossed that line.
I'll mark her as mine.
I'll protect her — no matter what.
But if I f*ck this up, at least one of us won't make it out alive.
THORN is a full-length, stand-alone novel. It is also the fifth book in the Lords of Carnage MC series. This steamy-as-hell, alpha male romance between a bad boy and the feisty, fiery woman he can't resist ends with a guaranteed HEA, has no cheating and absolutely no cliffhanger.
Genre: Romance
THORN: Lords of Carnage MC by Daphne Loveling