No Comments
Heartsridge Shifters: Austin (South-One Bears Book 1) by Olivia Arran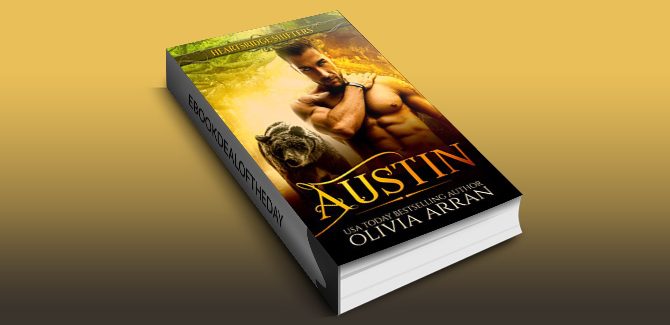 Realtime Pricing:$0.99


It's a new world. Shifters are no longer a secret and they're ready to fight for their right to live free.
Everything is different.
Six years ago, the Registration Act forced shifters out into the open and the world changed. Towns were created to provide a safe haven for those shifters who chose to follow the law, and those who didn't were declared rogue.
Heartsridge is one of the few shifter towns in existence, guarded and protected by special teams of bears and wolves. Their job: to protect the right for shifters to live and love, and for the space to run free as nature intended. Because not all humans found the truth easy to accept–that they're no longer the dominant species. Tourism keeps the town thriving, humans able to visit and stay for a week, but then they have to leave.
It's the law.
As the Alpha of Bear Team South-One, it's Austin Ford's job to secure the perimeter of the town from possible threats and make sure the visiting humans follow the rules. No exceptions, and that includes the beautiful, curvy human woman he finds trespassing in his forest. Defiant and frustratingly stubborn, everything about the gorgeous human calls to the bear inside him. Before he's even had chance to snarl, she's got the furry oaf of a bear wrapped around her little finger, leaving the man confused and trying to catch up. But he has his suspicions. He's pretty sure he's just met his fated mate.
Unlike the other tourists, Leona Kelly isn't visiting Heartsridge to snag a shifter. She's here to find her missing sister. A woman on a mission, she has no interest in shifters, no matter how devastatingly attractive they might be. Or he might be. Austin. The big, burly bear shifter who'd thrown her over his shoulder and hauled her out of the forest. He says he wants to help, but can she trust him? Then a shocking discovery changes everything. Leona no longer wants to leave, but she's not allowed to stay. Austin is the only one she can turn to for help.
But why is he helping her? And what could he possibly want from a human who doesn't belong in his world?
Genre: Paranormal Romance