No Comments
A Journey Spared, Book 1 by Alexandra Grace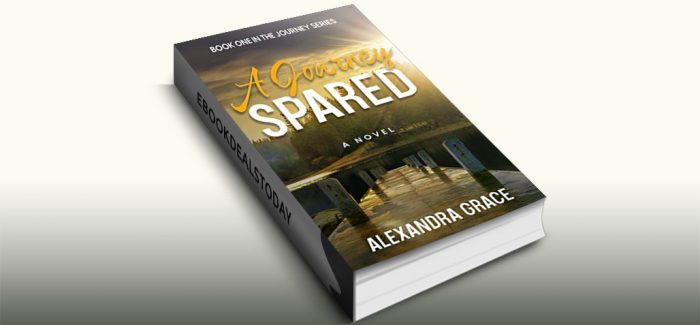 Realtime Price – $4.99
Finding a new path can be difficult when the darkness threatens to swallow you.
When Jackson Vane and his three best friends joined the U.S. Marines after high school, he had big dreams. Not only did the service take him far away from his father and the city he refused to call home, it also gave him endless opportunities to see the world. But he never dreamed that eight years would be all he'd get. Now, he's being shipped back to Richmond, Virginia with nothing to his name but shattered dreams, a useless medal, two broken legs, and a devastated heart. While his injuries hold him captive in his childhood home, Jackson has a new war to fight. He must come to terms with survivor's guilt, figure out who he is, and most daunting of all, learn how to heal.
Avery Mason has burned for Jackson for most of her life. Now that he's back to stay and needs her help, the time is right to claim what she's always wanted. Twenty years was an excruciatingly long time to wait for her dreams to come true. And she can't wait any longer. Whatever she has to do, she's going to make it happen. Jackson will finally see her, fall deeply in love, and be forever by her side, or God help her soul.
Jackson's story continues in A JOURNEY TO LOVE (book 2) and concludes in A JOURNEY HOME (book 3).
Is Avery's love strong enough to break down his walls and light the way to finding his new life's purpose and happy ever after? Or will the darkness swallow them both?
The JOURNEY SERIES is a heartwarming story about a veteran rising out of darkness after losing almost everything he holds dear. The journey is hard. There will be hardships, pain, heartbreak, and raw emotions (potential trigger warning: open door romance, coarse language, suicide, PTSD, loss, rape, verbal abuse, and violence). But there is even more inspiration, hope, sweetness, perseverance, friendships, unbreakable bonds, and unconditional love.
Genre: Contemporary Romance, Romance
A Journey Spared: Sweet with heat story about a broken veteran's journey to find hope and purpose (The Journey Series, Book 1) by Alexandra Grace