No Comments
Paws and Claws (Volume 2): 22 Book Shifter Romance Bundle (Excite Spice Boxed Sets) by Selena Kitt + More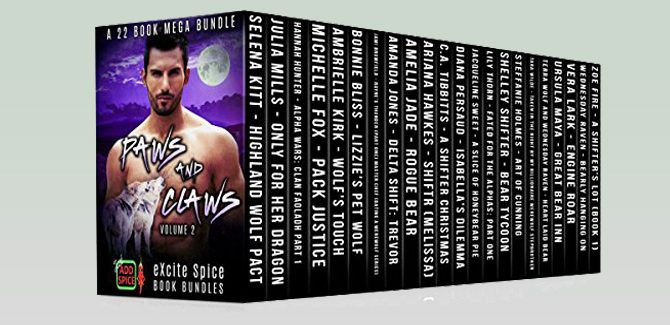 Realtime Pricing:Processing (1)

Do you like HOT, FREE books? Get 5 FREE reads just for joining EXCITE SPICE. Check out the "From the Author" section below for details!
These shifters are on the prowl…
This 20 BOOK Excite Spice MEGA Bundle brings you all the sexy, hot shifters you could ever want. From highland wolves to mountain bears and medieval dragons, you get over 450,000 words of shapeshifting hotties. That's the equivalent of nine full novels' worth of paranormal pleasure at your fingertips in this giant collection!
Twenty-one of the genre's hottest authors will take you on a wild, passionate ride where big, brawny alphas seek their feisty, fated mates. Don't miss your opportunity to grab this limited-time bundle, bursting at the seams with shifters guaranteed to make you swoon!
This EXCITE SPICE bundle is on sale for a LIMITED TIME.
K!NDLE UNLIMITED MEMBERS – DOWNLOAD THIS BOOK FREE!
FEATURING
Selena Kitt ~ Highland Wolf Pact
Julia Mills ~ Only For Her Dragon
Michelle Fox ~ Pack Justice
Ambrielle Kirk ~ Wolf's Touch
Bonnie Bliss ~ Lizzie's Pet Wolf
Jami Brumfield ~ Rayne's Thunder (part one) Master Chef (Dating a Werewolf Series)
Amanda Jones ~ Delta Shift: Trevor
Amelia Jade ~ Rogue Bear
Ariana Hawkes ~ Shiftr (Melissa)
C.A. Tibbitts ~ A Shifter Christmas
Diana Persaud ~ Isabella's Dilemma
Lily Thorn ~ Fated for the Alphas: Part One
Shelley Shifter ~ Bear Tycoon
Steffanie Holmes ~ Art of Cunning
Tara Wilde ~ Taken in the Night by My Billionaire Werewolf Stepbrother
Terra Wolf and Wednesday Raven ~ Heart Laid Bear
Ursula Maya ~ Great Bear Inn
Vera Lark ~ Engine Roar
Wednesday Raven ~ Bearly Hanging On
Zoe Fire ~ A Shifter's Lot (Book 1)
Genre: Paranormal Romance