No Comments
Fenbrook Academy – The Complete Trilogy by Helena Newbury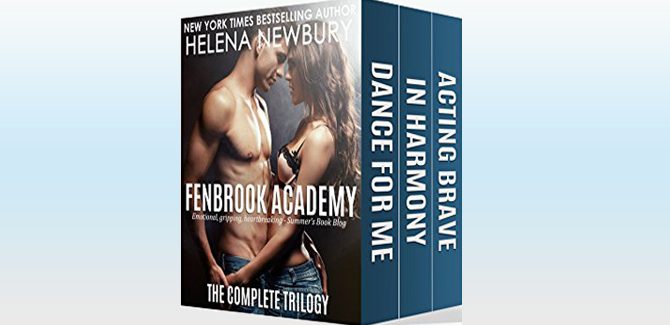 Realtime Pricing:$6.99

Three full-length romances – Over 300,000 words in total
Price if bought separately: $11.97. The chart-topping New Adult romance trilogy that mixes billionaires and ballet dancers, Irish bad boys and shy girls, New York cops and actresses and much, much more.
Dance For Me – "Emotional, gripping, heartbreaking" – Summer's Book Blog
In Harmony – "This is one book I didn't dare put down" – Book Freak
Acting Brave – The first two books in the series were really, really good. This book is exceptional – IsaLovesBooks
Dance For Me – Natasha is one of the most promising ballet dancers at the prestigious Fenbrook Academy of Performing Arts and she's just landed a life-changing audition. But no one knows the guilt she carries…or the damage it makes her inflict on herself when she's alone.
Darrell is a multi-millionaire designer at 25. But past traumas have pushed him into isolation and the intense pressure of his work has brought him to the edge of burnout. Seeking inspiration, he sees Natasha dance and hires her as his muse.
As she dances for him, the two become entwined in a passionate but troubled relationship. He starts to see the pain inside her and helps her gradually lower her defenses…but Darrell has demons of his own. Can two broken people save each other? Or will the darkness they're hiding consume them both?
In Harmony – A life spent playing the cello has left no time in Karen's life for anything else. At 21, she's still completely inexperienced in love…and sex. All alone and under intense pressure to succeed, she's almost at breaking point. Then a brutal crime threatens to destroy all her dreams forever.
Her only hope of graduating is Connor Locke: tattooed rock guitarist, Irish bad boy and soon to be Fenbrook's most notorious drop-out, if his grades don't improve. Somehow, Karen has to convince him to team up with her for a duet. She doesn't expect to be drawn to him by a raw sexual heat…or, as the weeks pass, to fall for him completely.
As the two rehearse, the tension between them simmers…and explodes. Suddenly, the ultimate good girl finds herself being very, very bad. But when their pasts conspire to rip them apart, can even their intense love win through?
Acting Brave – She's spent her whole life acting. But can she make him believe she doesn't love him? Three years ago, a terrified girl named Emma fled a world of crime and abuse in Chicago and bought a one-way ticket to New York. She reinvented herself as an actress, enrolled at the prestigious Fenbrook Academy and buried her pain beneath a vivacious new persona. Her new name was Jasmine.
Now she has to pull off the performance of her career. Landing her dream part in a police show, she finds herself falling for her co-star, Ryan, a real-life cop. If she lets him get too close, he'll awaken memories she doesn't want to face and uncover secrets that could endanger them both. But how can she keep a guy at arm's length when she has to kiss him on camera?
The last place Ryan imagined himself was on a TV show. Blaming himself for the death of his partner, he's on a downward spiral of rage and guilt. The show is his last chance…but how can he keep it professional when his co-star is a woman he's crazy about?
As their on-screen and off-screen relationships merge, things go from hot to blistering. But when Jasmine's old life catches up with her, will a cop be the one person she can't be around…or the only person who can save her?
Suggested for 17+ due to adult themes. Trigger advisories inside books.
Genre: New Adult, Romance