No Comments
Stabled (A Dark Romance) (The Stables Trilogy Book 1) by Penny Lam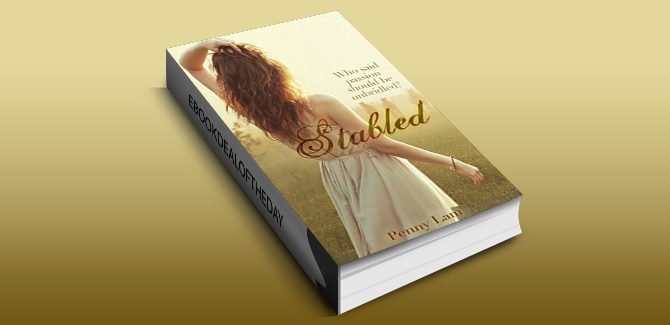 Realtime Pricing:$0.99

"Don't go in there. Ever."
Maple is a smart, quiet, meek girl who, after a failed stint at college, takes a job at Deyton Ranch. The job is perfect. Free room and board, good pay, and most importantly, no one there knows her face or past. It's a place where she can hide– even from herself.
Except some people are impossible to hide from. Her boss, J.B. Deyton, is a cowboy with money, serious sex appeal, and a secret. With tousled black hair and a commanding attitude, he's both terrifying and irresistible.
When he becomes not only her boss but also her savior, he brings forth the dark, quivering desires she keeps hidden beneath her milquetoast exterior. The job he's given her was supposed to offer her shelter, but soon Maple is in danger of running wild.
Now Maple needs to find a way to rein herself in, or risk making the same mistakes twice. But when she opens the door to his secret, the blinders are lifted and something in her threatens to break.
She needs this job. She needs to not go in the stable. She needs to keep herself locked down.
But she isn't sure she can control her desires…or her heart.
Author's note: Not intended for those uncomfortable with violence and uncomfortable subject matter or are under eighteen.
Genre: New Adult, Romance, Suspense