No Comments
Magician Dragon's Supernatural Fate by Brittany White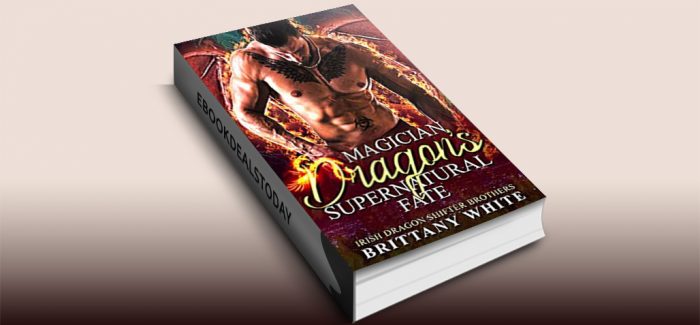 Realtime Price – $2.99
A dragon shifter vows to keep his vampire mate safe from her brutal past.
The Vampire Mate
As a human, I had a good life. I had friends and a loving family.
Then an evil vampire kidnapped me.
He stole me from my home and ended my life.
I woke up like him.
A creature who only drinks blood.
He wanted me as his mate, but I managed to get away…
But what I found was even worse
A coven who tormented and killed, just for fun.
Then the bravest man I've ever met walked into my life.
I was starving, desperate for blood,
And this gorgeous male stepped in and kept me from making a decision I'd always regret.
He offered me a home in his circus and the chance to have a family again.
I want this hot dragon shifter, more than anything in this world. But it's not possible.
How can we be together when he's mortal and I am not?
My very presence puts him in danger.
The Magician Dragon Shifter
I grew up in a loving clan.
But I had a wanderlust my clan did not share
A wizard's blood flows in my veins, and I have a gift for magic.
I started my own circus when I was only twenty-one.
I journeyed around the world and entertained crowds.
My life was perfect except for one thing—I was alone, without a mate.
While traveling, I met a gorgeous woman
I couldn't take my eyes off of her
She's not a human. Or a shifter. Or even a witch.
She's a vampire.
And she's the most captivating female I've ever seen.
She hasn't had an easy life.
Her coven held her hostage for years.
But she survived, and she fought back.
I have to get this beautiful female to see that she's my mate.
Our connection is meant to be.
But fate interrupts our time together.
Now she's on the run, and I will do anything to save her.
Can a dragon shifter and an immortal vampire find a way to be together—forever?
Note: Adults Only!

Genre: Paranormal Romance
Magician Dragon's Supernatural Fate (Irish Dragon Shifter Brothers Bookm 13) by Brittany White