No Comments
Lucifer's Curse, Book 1 by Eliza Raine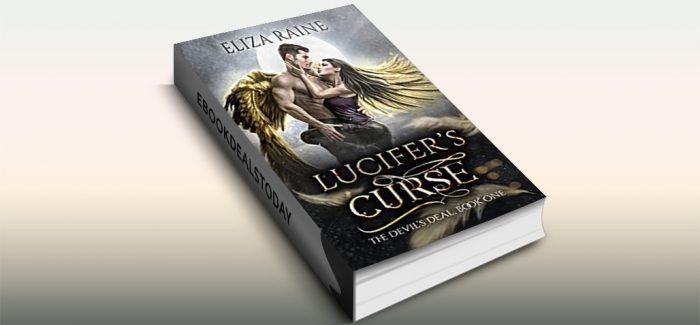 Realtime Price – $2.99
What's worse than finding a dead girl in your boss's office? Becoming suspect number one in her murder.
When my impossibly sexy boss, Mr. Nox, steps in and offers to help I'm initially relieved. But his help comes with a caveat. He wants something in return. Oh, and here's the kicker. He claims he's Lucifer. The devil. A God of Sin.
Things don't go my way, and I'm forced to accept a deal with the devil. I know what he wants. I can see the burning desire dancing in his piercing blue eyes. He wants me. And the longer I spend in his company, the more I begin to crave his touch, his kiss, his fierce passion. But if I give myself to him, he may never let me go. He claims that he is cursed, and believes I may be his salvation. I'm starting to wonder if he could be mine.

Lucifer's Curse is the first book in a steamy fantasy romance trilogy. If you like outrageously hot men with Irish accents and big wings, you're going to love Nox.

From the author of the best-selling Hades Trials comes a brand new, spicier, paranormal romance.
Genre: Romance
Lucifer's Curse: A Forbidden Fated Mates Romance (The Devil's Deal, Book 1) by Eliza Raine