No Comments
Her Alpha Dragon Protector by Brittany White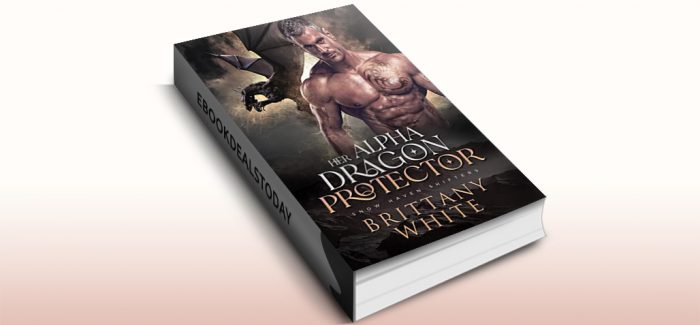 Realtime Price – $0.99
I've been running my entire life, and I never found a place where I felt safe. Until I found Snow Haven.
Shifters, witches, and others have been trying to kill me my entire life – but not for anything I've done. It's because of who I am. I'm a very powerful witch.
Some want to capture me because they want to use me and use my magic for their own benefit. Some want to kill me because they are afraid that I will get in the way of their evil magic. One wants me out of the way because he thinks I'm encroaching on his territory – the alpha of the dragon clan.
Snow Haven was supposed to be my safe haven, a place to hide until I turned twenty-one when my magical powers would grow exponentially and I would be the most powerful witch to exist in more than a century. The hunters have found me even here and they threaten the lives of those I love most — including Luke.
Luke, the alpha of his dragon clan, saved me while I was being attacked. Then, he demanded answers. When he learned of the danger I was in, he appointed himself my protector. The chemistry between us was instant.
His touch, his kisses, and his love were overwhelming. He captured my heart and my soul.
Even as the rogue shifters, evil witches, and one very jealous dragon shifter try to destroy me and those I love most, I can't make myself leave.
A bear shifter — who was my mother's best friend
A pit bull – my familiar and best friend
A dragon shifter – the alpha of his clan and the love of my life
I knew I should leave Snow Haven and disappear to protect those I've come to love. Yet, I was compelled to stay.
Every day, the evil grew and threatened to destroy me. Could I live long enough to save those I love and find true happiness with my soulmate?
Note: Adult Only!
Genre: New Adult, Paranormal Romance
Her Alpha Dragon Protector (Snow Haven Shifters, Book 1) by Brittany White