No Comments
Surrogate For Wolf Shifter by Brittany White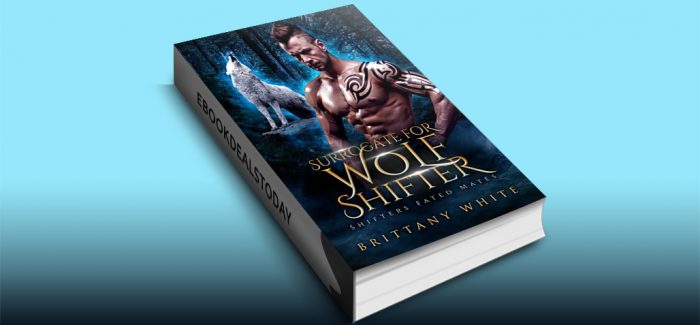 Realtime Price – $0.99
I made the mistake of falling in love.
Bear Shifter Surrogate
A chance meeting with a surrogate gave me an idea of how I can help my parents and achieve my life's goals while helping a wolf shifter's dream come true. The surrogate agency introduced us, and I discovered that he was everything that I ever dreamed of – The Prince Charming in my personal fairy tale. The connection was immediate. And I fell in love.
Unfortunately, he had vowed to never fall in love again and to never marry again. His heart was broken by a woman and he told me how she had shattered his trust in spite of that, we had a connection – I thought. He hadn't read my profile from the agency and thought I was a wolf shifter like him. So, when we shifted to go for a run he discovered that I was a bear shifter. He told me that his grandfather would never accept our hybrid child as his heir. I was to be left to raise this child alone, without my prince, without my love.
Was our child and my love enough to change his mind?
Wolf Shifter Donor
My grandfather was dying and his one wish: An heir to carry on the family name. After an ugly divorce, I didn't want another wife, so, I did the next best thing. I decided to hire a surrogate. I told the agency she had to be a wolf shifter – My grandfather was very traditional and strictly followed the shifter code – heirs must not be hybrids. I was introduced to the shifter who would carry my child, deliver it, and walk away. No strings attached.
Except for one problem: I fell in love with her. There was no way that I could ever marry another woman and make my heart vulnerable to betrayal once again. Everything that I did to protect myself only served to hurt the woman whom I loved. Yet she always forgave me and opened her arms to me. Then, I discovered a problem. She was a bear shifter. And I was certain my grandfather would only accept a purebred wolf shifter as his heir.
How could I choose between my love for this woman and our baby and making my grandfather's last wish come true?

Note: Adults Only!
Genre: Paranormal Romance
Surrogate For Wolf Shifter (Shifters Fated Mates, Book 2) by Brittany White