No Comments
Full Force by Fiona Quinn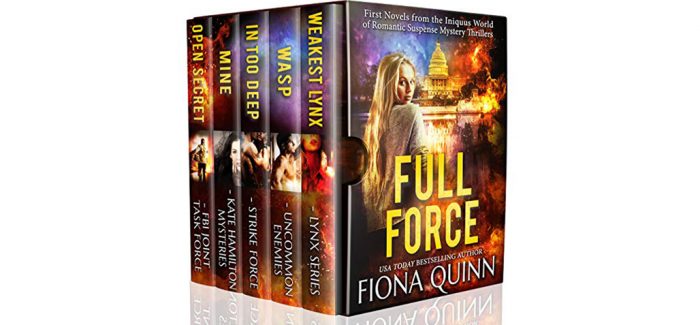 Realtime Price – $9.99
Full Force is a sampler set that includes the first novel from each of the first five Iniquus series. Enjoy! Welcome to Iniquus Security… …where ex-special forces live, work, and love in a world of action adventure. You'll meet a cast of characters who will stay with you for life, as they move from one adventure to the next. Each book is part of a larger series. All of them intertwine. The deeper you get, the more you'll fall in love with these stories, brimming with thrills, suspense, and action. With just the right mix of romance, and psychic twists, you'll keep turning the pages to see what happens next.
Weakest Lynx
Where would you go if no where was safe? Lexi is a young woman on the run. She has secrets to hide and a madman on her heels. Her truths might set her free or become a trap. Her psychic knowings can either help her survive or drive her into deeper dangers. She's to young to be thrust into an adult world. Yet, her worldly experience surpasses most adults. Now what will she do with the team of ex-special forces security operators whose job it is to keep her alive when they bring danger to her door?
WASP
Zoe knows the secrets, now they're coming for her. The enemy will stop at nothing to get to Zoe and the military secrets that could change everything. What Zoe knows is getting people killed. Is she next? Gage is a hardened Marine special forces operative with only one soft spot: Zoe. Her desperate screams echoing from inside her home switch his instincts from lover to guardian. To keep America safe, to protect the love of his life, Gage is coming full throttle.
In Too DEEP
Sometimes Trust Can Get You Killed Retired Marine Special Operator Deep Del Toro watched the newscaster play the video of the woman he loves fighting off the FBI agent and escaping from a murder scene the night before. Now, Lacey's turning herself over to the police. What Deep's practiced eye saw in the video was a highly-choreographed crime. But somehow Lacey had thwarted the professionals' plans. She is in imminent danger. Enmeshed in a mystery that includes the FBI, the CIA, and a tangle of interconnected international crimes, Deep and Lacey work to discover who plays the good guy and who plays the bad guy in a gray world where right and wrong easily overlap. Lives depend on them.
Mine
A sleepy town in southwest Virginia wakes up to a nightmare of untimely deaths. Not safe at home in Boston, science teacher Kate Hamilton seeks refuge in the small Virginia town where she was born and raised. Scarborough is no longer the bucolic village that she remembered. Pleasantries are only skin deep as big city issues and the politics of the world roil just under the surface. A string of untimely deaths has the whole town grieving. Only Kate thinks something nefarious is afoot. Can Kate convince the local police that coincidences like these are only found in fiction? Kate is determined to solve the puzzle and save lives, especially her own.
Open Secret
Can 280 characters destroy a nation? Avery Goodyear, a romance editor from the suburbs, becomes a player in an international game of psychological warfare. The FBI watches the attacks unfold in real time. The enemy's strategy: win hearts and minds to destroy American unity. The FBI focuses its secret weapon, ex-Army Ranger Rowan Kennedy, at the crisis. With a PhD in propaganda, Kennedy puts everything on the line to expose the wealthy oligarchs and high-powered schemers threatening our way of life… …and to protect Avery. To beat the enemy at their own game, Rowan and Avery must break the rules. It only complicates things that they're falling in love. The game is on. The set is in play. Who will win the match?
Genre: Action & Adventure, Romantic Suspense, Women's Fiction
Full Force: First Novels from the World of Iniquus Romantic Suspense Mystery Thrillers (Iniquus Security Action Adventure Boxed Set Book 1) by Fiona Quinn