No Comments
Free Three Mystery Kindle Books this Saturday!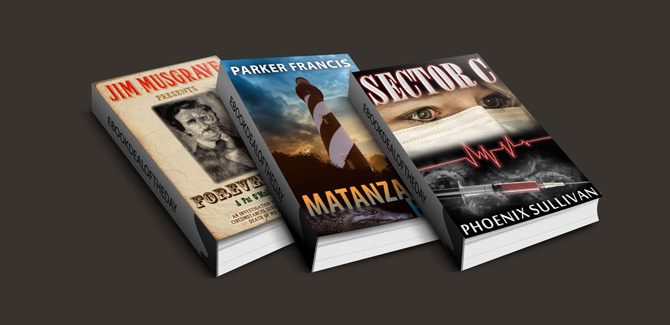 Free! "Matanzas Bay (A Quint Mitchell Mystery)" by Parker Francis
When PI Quint Mitchell volunteered to help with an archaeological survey in St. Augustine, he didn't count on digging up a murder victim. In the nation's oldest city, Mitchell discovers links to ancient sins, comes face to face with his own past, and unleashes powerful forces that will do anything to keep their secrets—even if it means taking his life. In this award-winning debut mystery, author Parker Francis taps into an undercurrent of violence hidden behind the sleepy façade of the historic town. When Mitchell's friend, the City Archaeologist, is charged with a brutal murder, he must find the true killer while fighting inner demons and the corrosive residue of racial violence dating back to the Civil Rights Movement. As he learns, St. Augustine was birthed in blood—Matanzas means "place of slaughter" in Spanish—and violence is never far from the surface.
Free! "Forevermore (Pat O'Malley Mysteries)" by Jim Musgrave
In post Civil War New York City, Detective Pat O'Malley is living inside Poe's Cottage in the Bronx. O'Malley is haunted by Poe one night, and the detective finds a strange note. As a result, O'Malley decides to prove that Edgar Allan Poe did not die in Baltimore from an alcoholic binge but was, instead, murdered. O'Malley quickly becomes embroiled in a "cold case" that thrusts him into the lair of one of the most sinister and ruthless killers in 1865 New York City.
Jim Musgrave's "Forevermore" is a quick read in four acts that will keep your mind razor sharp trying to solve the mystery of Poe's murder. Pat O'Malley must first find out how to become intimate with females before he can discover the final clue in this puzzle of wits, murder and romance.
Free! "SECTOR C" by Phoenix Sullivan
A rise in stroke-like cases has CDC analyst Mike Shafer on alert. Patients in every demographic in the Great Plains area, from toddlers to healthy adults to the elderly, are succumbing to rapid deterioration – and death.
Veterinarian Donna Bailey, meanwhile, is dealing with an outbreak of her own. It looks like mad cow disease. But to be affecting so many species? Impossible. Whatever it is, it's spreading. Fast. As state and federal agencies race to contain the growing threats, Mike and Donna's searches for Patient Zero intersect at a big-game compound in a remote corner of North Dakota. There they find their answer buried in a secret thought extinct for 10,000 years. A secret entrepreneur Walt Thurman will kill to protect. But even if Mike and Donna can escape the compound with the secret of Sector C, it may already be too late. Because after today, extinct no longer means forever.