No Comments
Free 4 Kindle Books this Thursday!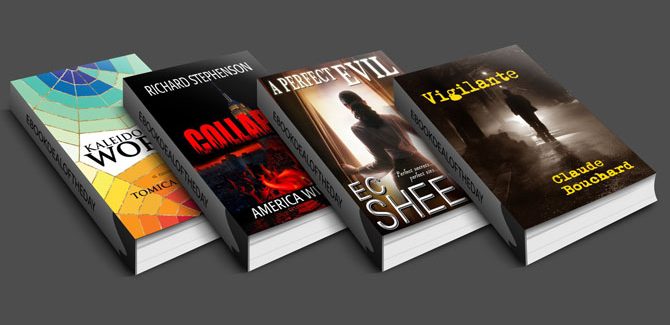 "Kaleidoscope World" by Tomica Scavina
A collector of kaleidoscopes and lousy relationships, Dahlia Kasper leaves her possessive alcoholic mother and moves from New York to Barcelona. In search of lost bits of her childhood, she starts living in an apartment where her father was murdered when she was four. As soon as she enters the apartment, strange things begin to happen.
Her favorite kaleidoscope becomes a gateway to another dimension where she encounters a ghost of a famous physicist from the 19th century who tries to persuade her that reality is like a moth-eaten sweater – full of holes. He needs her to help him plug up these holes and save the world from vanishing, while the only thing Dahlia really wants to save is her sanity.
This is just a part of Dahlia's problems. An elderly cello-playing neighbor turns her emotional world upside down and her longing for lost home takes her further than she ever imagined she could go. To collect all the scattered kaleidoscope-bits of her life together, Dahlia needs to go through an intense inner transformation that takes courage and a sharp sense of humor.
"Vigilante" by Claude Bouchard
Montreal… the long, hot summer of 1996… and in the dark of night, moving like a shadowy wraith, a vigilante prowls the city's streets.
The targets of his bloody rampage: the worst of the worst. Murderers. Gangbangers. Rapists. Six months. Sixteen murders. The harried police are still without a clue… until the day they receive an email from the assassin himself.
Lieutenant Dave McCall, head of Montreal's Special Homicide Task Force, needs help to crack the secrets of the killer's taunting message. He calls on an expert–Chris Barry, who runs a security firm specializing in computer communications.
Together, McCall and Barry launch a grim quest to track down a man who preys on predators–an urgent quest to bring this remorseless killer to justice.
But whose justice will prevail: theirs–or the vigilante's?

"A Perfect Evil" by EC Sheedy
Old sins leave dark and lasting scars…
Hannah Stuart thinks she's safe within the dark and private rooms of Kenninghall, her friend Milo's rambling and secluded Washington estate. Here she hides from the outside world, nurturing her depression, and lost in a past and painful tragedy she can't let go. She lives her days by rote, each day the same as the one before.
But change, for good or ill, is both relentless and inescapable.
Milo dies, leaving Hannah a fortune and three letters. Letters telling of old sins and ugly lies, now tangled anew in more shocking depravities. Letters the rich and powerful will kill to suppress. Letters Hannah is driven and honor bound to expose—and time is running out.
When Milo's long-lost relatives and former business partners start showing up at Kenninghall, Hannah doesn't know who to trust. In desperation she turns to the mysterious Yates Lang.
Yates has the experience to help her, but he also has secrets of his own—and a compelling reason to destroy the letters.
He may be falling for the reclusive beauty of Kenninghall, but when love gets entangled in existing loyalties, bad blood, and a perfect evil, it can get you killed.

"COLLAPSE" by Richard Stephenson
BOOK ONE in the NEW AMERICA series.
America is falling, ready to join the Roman Empire as a distant memory in the annals of history. The year is 2027. Tired and desperate, the American people are deep in the middle of The Second Great Depression. The Florida coastline is in ruins from the most powerful hurricane on record; a second just like it is bearing down on the state of Texas. For the first time in history, the Middle East has united as one and amassed the most formidable army the world has seen since the Third Reich. A hidden army of terrorists is on American soil. This is the story of three men: Howard Beck, the world's richest man, also diagnosed with Asperger's Syndrome. Richard Dupree, ex-Navy SEAL turned escaped convict. Maxwell Harris, a crippled, burned out Chief of Police of a small Texas town. At first they must fight for their own survival against impossible odds. Finally, the three men must band together to save their beloved country from collapse.