No Comments
Free Three Erotica Romance Nook Books this Friday!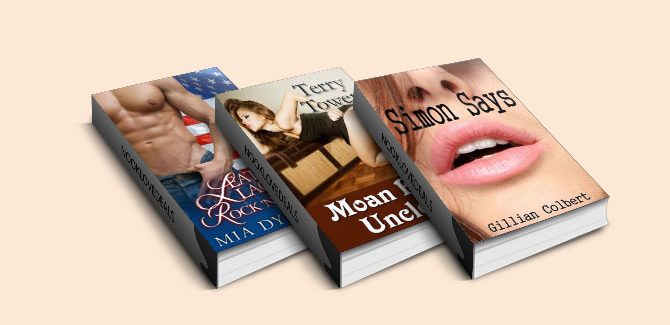 "Leather, Lace and Rock-n-Roll (SEALS, Inc., Book 1)" by Mia Dymond
Brains before Beauty, that's Rachel Newberry's motto, especially when her quiet, orderly life is interrupted by international rock star, Jaydon Hawke. And true to her word, brains take center stage when she discovers Hawke has a lot more on his mind than beautiful music. Targeted by a madman, Rachel puts her trust in Hawke, a move that may cost both their lives.
"Moan for Uncle" by Terry Towers
Nikki has spent countless nights pleasuring herself to the thought of one man; her oh-so-sexy Uncle Grant. When he takes her out for her nineteenth birthday – just the two of them – she sees it as an opportunity. She has one evening to seduce him, and prove that she's no longer daddy's little girl.
"Simon Says" by Gillian Colbert
From the pages of Forbidden Fruit … Simon Cain has given up on finding a woman who can give him what he needs — total submission. Gwen Caldwell has avoided men ever since her disastrous relationship with her former master. After their paths collide, Simon is determined to overcome Gwen's resistance, but will she trust him enough to do what Simon says?