No Comments
Free Humor, Scifi & Fantasy Kindle Books this Wednesday!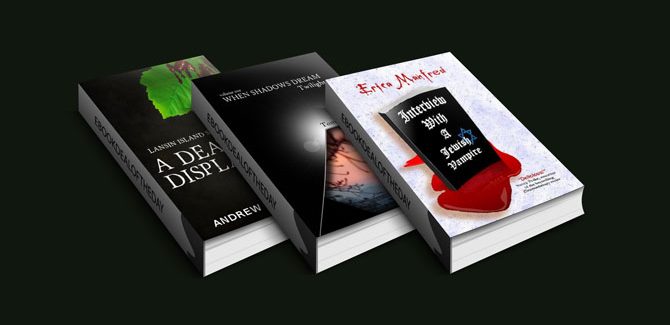 "A Death Displaced (Lansin Island Series)" by Andrew Butcher
– Visions – Witches – Ghosts – Murder –
On an island with a dark past of witch burnings, twenty-four-year-old Nicolas discovers he can see the future. New meaning is thrust upon his life – a life left in shambles since the disappearance of his mother – when he acts on a vision and saves a woman. But changing a fate has consequences … consequences that appear in ghostly forms, and turn the life of the woman he rescued upside down.
"When Shadows Dream: Twilight" by Tom Terry
Braxton's lonely days came to end at the annual Jazz festival when he met Jenneen—dark hair with blonde highlights, radiant skin, a bold confidence, and those two beautiful heads. As Braxton falls for the most unusual woman he's ever known, he must find a way to maintain his affection, while accepting her horrible sacrifice of love.
Charles Fargo's desperation for significance leads him to a venture of faith with devastating consequences for his hometown. Caught between the desire to do great things, and his mediocre existence, Charles takes on a simple task—moving a mountain.
Bill Harmond was the perfect employee, and prospective mate, the man all the women at the office wanted—handsome and hard working, a creative thinker with an edge, kind, generous to a fault, a man of impeccable integrity, and the best serial killer the company ever had.
"Interview with a Jewish Vampire" by Erica Manfred
The last thing zaftig middle-aged journalist, Rhoda Ginsburg, expected when she signed up for JDate was to fall in love with a vampire. But when she meets drop-dead gorgeous Sheldon, a Hasidic vampire, she falls hard. She rationalizes that he may not be alive, but at least he's Jewish.
She learns that back in the nineteenth century Sheldon was a rabbi who was turned into a vampire by Count Dracula, an anti-Semite who got his kicks from turning Orthodox Jews into vampires because then they'd have to drink blood, which isn't kosher.
Soon after she meets Sheldon, she discovers her beloved mother, Fanny, is terminally ill, so she comes up with the crackpot idea of getting Sheldon to turn Fanny and her friends, known as "the goils," into vampires. Once she becomes a vampire, Fanny tires of her boring life in Century Village, Florida, and, seeking thrills, she goes clubbing and disappears into the nightlife of South Beach in Miami. When Fanny and her goil posse "go rogue" and start preying on the young, Rhoda and Sheldon must track them down to keep them from killing again.