No Comments
Three Free YA Fantasy ibooks this Tuesday!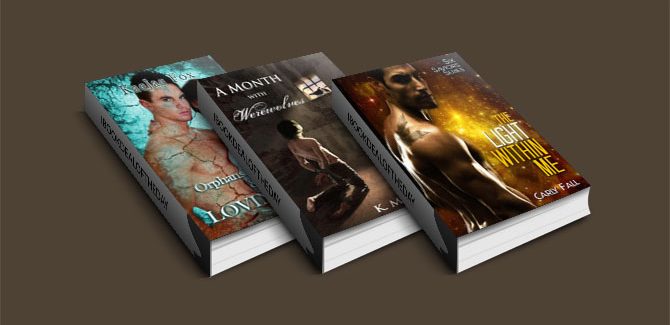 "Orphans, Wolves & Loving It!" by KaeJae Fox
Tyler's here on a mission, to take two orphan wolf cubs into his pack. The only thing standing in his way is a sharp-tongued human, who smells to damn good for her own health. He likes his freedom and as Alpha, he doesn't answer to anyone. Just who in the hell does this man think he is, right? So what if he is sin on a motorcycle! When Lauren realizes Tyler's come to take the only living family she has left in this world, she will fight him tooth and nail. Little did she realize that statement would soon be her reality. Fangs or no fangs, no one and she means no one, will take her nephews from her.
"A Month With Werewolves" by K. Matthew
A budding journalist trying to advance her career. A secluded werewolf reservation shrouded in mystery. A secret culture unexplored.
Taya Raveen has taken on the journalism assignment of a lifetime, the chance to spend a month in the infamous Blackfoot Werewolf Reservation, a government operated safe haven for werewolves that has never been seen by civilian eyes. Following a new detainee into the reservation, Taya will get a first-hand account of what it's like to be introduced to pack life.
Approximate length: 12,150 words
This is book one of an ongoing series.
Other books in this series include:
A Week with Werewolves
"The Light Within Me" by Carly Fall
When Abby and Noah meet, there is an explosive attraction between them that neither can deny…As a shy, awkward, social misfit, Abby has gone her whole life feeling as though she's different from everyone else and she simply doesn't fit in well with society as a whole. She longs to feel a real connection with someone, and she finally does when she meets Noah.Unbeknownst to Abby, Noah is from another world and his sole purpose is to hunt down the evil of his people that was unleashed on Earth hundreds of years ago. He's certain he isn't going to be able to return to his home, and anger and the need for revenge are his constant companions. His focus has been eradicating the evil and making them pay for taking his life on his world away from him.Noah tries desperately to fight his attraction to Abby so he can keep his focus on his mission. But when Abby gets dragged into the evil and mayhem from Noah's world, he realizes that maybe with Abby he can find a home here on Earth…if he can save her in time.