No Comments
Forbidden First Times by Sofia T Summers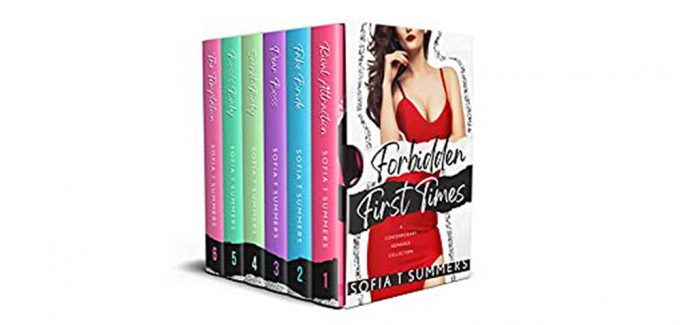 Realtime Price – $0.99
Six steamy forbidden first-time romances to melt your Kindle!
Book 1: Rival Attraction
I'm never walking down that path again.
Even if he kisses better than any other man.
We'll always be bitter rivals.
Book 2: Fake Bride
Chicago's been great so far.
And what's been even better?
The billionaire who owns the building.
So, what did I do when he asked me to play his fake wife?
I looked into his gorgeous eyes and nodded my head.
Book 3: Dear Boss
She's young, innocent and sassy.
And I'm drawn to her like a magnet.
Even though I know what the future holds.
I see scandal as clear as day.
This story could only end in one of two ways.
Heartbreak.
Or an extremely unexpected happily ever after.
Book 4: Secret Baby
We were torn apart for way longer than I'd expected.
Long enough for her to keep a secret from me.
I missed her sweet lips.
Her intoxicating smile.
And I had to have her again.
So I returned, wishing that fate was on my side.
On our side.
And hoping that her little secret doesn't destroy our second chance.
Book 5: Boss's Baby
When I found out that I was pregnant, I didn't have a choice.
I had to leave – I couldn't ruin Elliot's life, not like that.
But now, I have to go back home.
Our daughter is almost four.
And Elliot is no less irresistible than he was five years ago.
Book 6: The Temptation
She's tempting, forbidden, everything I shouldn't crave.
But I still want her.
Her recklessness will get us into trouble.
She's too young.
And the way I want to touch her will complicate things.
No cliffhanger, no cheating, plenty of steam and guaranteed HEAs included! Contains a preview of "Baby for Brother's Best Friend".
Genre: Contemporary Romance
Forbidden First Times: A Contemporary Romance Collection by Sofia T Summers