No Comments
Noble and Strong by Tatum West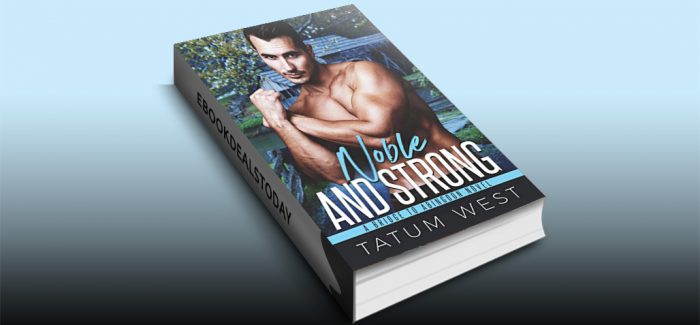 Realtime Price – $4.99
Noble:
I learned long ago that I could look—but never touch. My father made it clear: I was no longer his son if I ever sinned with a man. But Connor Strong took hold of my heart the moment I saw on him. And he made that sin sound so, so sweet.
My dad is the most powerful Evangelical preacher in the country. Millions of people watch him on TV every Sunday morning. I'm the church's golden boy—handsome, well-behaved, and straight. But a man like Connor Strong couldn't be wrong in God's eyes. And the way he kisses me is a spiritual revelation.
Connor makes sparks fly whenever he touches me. He teaches me, slowly and tenderly, and shows me exactly what he needs. He tells me I'm the perfect boyfriend, except for one thing. I'm not out. I can't be.
But there are some things worth fighting for. And Connor Strong tops the list.
Connor:
I came to Abingdon after my ex broke my heart. I resigned myself to a life alone. But when Noble Hansen walks into my bakery, sculpted and towering like a Norse god, I realize I need that man in my life. Sure, Noble's a closet case and has some major issues with his mysterious family. But once he gets a taste, he can't get enough—and I can't get enough of him, either. He's at my house every night, and I'm fine with staying secret during the day.
But drama comes along with dating the world's kindest evangelical superstar. When anti-trans protesters fill the town, Connor stands up to them. And when one of the protesters gets assaulted, I'm the one getting accused. I have an alibi, but I can't use it without letting everyone know his secret: I was in bed with Noble, teaching him something very new. I could 'out' Noble, change his entire life. But he's not just a fling or a rebound. Noble is my everything, and I won't reveal his secret, especially not while Reverend Hansen is watching his every move.
But it turns out that Noble is far braver than I ever imagined.
Noble and Strong is the fifth book in the Bridge to Abingdon series. Each book focuses on one adorable couple, and each can be read as a standalone novel. Noble and Connor have a tense, exciting, and sensual relationship with lots of first-time moments and out-for-you drama! There's also your favorite Abingdon grandma, Gil Steele doing hot cop things in uniform, loads of rainbow baked goods, and a redemption story you'll never expect. Connor and Noble are the defenders of Abingdon's LGBTQ+ community, and they won't let hate take over their town!
Genre: LGBT, Romance
Noble and Strong (Bridge to Abingdon Book 5) by Tatum West