No Comments
Fast & Furious Dragon's Wife by Brittany White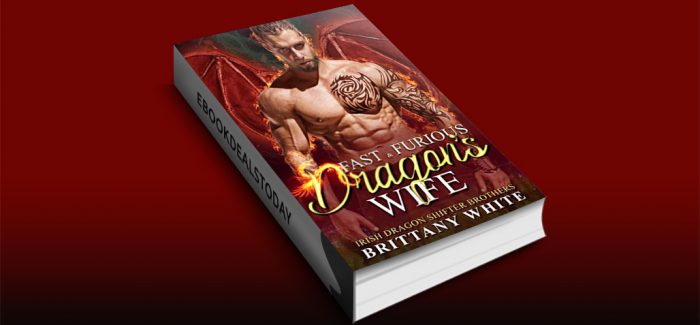 Realtime Price – $2.99
After spending his life as a bachelor, a dragon shifter agrees to an arranged marriage and is stunned to find he's falling for his beautiful new mate.
The Female Clan Leader
My mother died in childbirth.
While leading our clan of dragon shifters, my father raised me on his own.
I learned many skills from him —
how to negotiate a treaty, how to host a diplomatic convoy,
and how to lead a clan full of headstrong shifters.
But like my father, I was always alone.
I watched my clanmates find partners, and yet I remained without a spouse.
My father had a proposal — an arranged marriage that would provide me a mate.
At first, I balked. I wanted a love match, a marriage created from affection.
But I fulfilled my duty and accepted the marriage.
My new dragon shifter mate is nothing like I'd expected.
He's laid back and sexy, daring and brave, but he knows nothing about our way of life.
If he doesn't respect my place in our clan, how will we ever make our relationship work?
The Race Car Driver Dragon Shifter
I started life in a happy clan. But it didn't last.
After our clan was held prisoner by evil witches for over a year, my parents fled.
They jumped into the human world and pretended to be human.
I abandoned everything I knew about dragons and flung myself into car racing.
It was my one true love; the only passion I cared about.
I wanted to win, but I didn't have the funding.
Then one day a wealthy businessman offers me a deal.
If I married his single daughter, he'd sponsor my car.
I'd inherit his wealth, but I'd have to commit myself to a South American clan and live as one of them.
I dreaded reliving my early life.
But then I met my future mate.
She was nothing like I thought the wife in an arranged marriage would be.
My mate was beautiful, stubborn, and captivating. And as the days went on,
I found myself falling for her.
But how can I live in her world, when I don't want a shifter's life?
Can a female dragon shifter show her new mate the joys of living in a clan, when all he's ever known from clan life was heartache?

Note: Adult Only!
Genre: Paranormal Romance
Fast & Furious Dragon's Wife (Irish Dragon Shifter Brothers, Book 18) by Brittany White