No Comments
Fake Marriage: A Contemporary Romance Series Box Set by Ajme Williams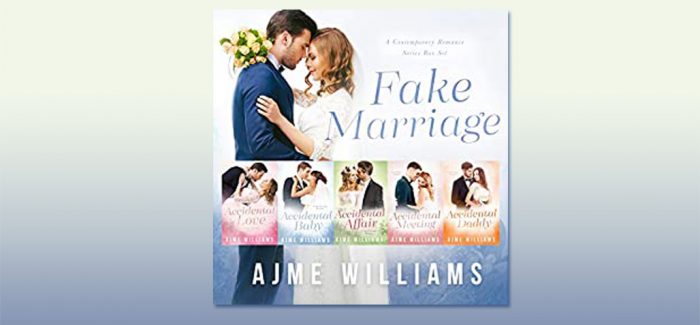 Realtime Price –
Welcome to Salvation.
Four full length fake marriage romance novels.
One bonus novel, not published as a standalone anywhere (yes, this is the one that you really want to read!)
Five swoon worthy men + five self-driven, sassy women.
Five emotional stories you'll never forget.
Accidental Love (Wyatt and Sinclair)
I never expected to see Wyatt back in town again.
Never… ever.
I also never expected to end up being married to him.
To clarify, our marriage is as fake as plastic.
He was my brother's best friend.
And he didn't hesitate to break my heart ten years ago.
Disappeared into thin air and joined the military.
I couldn't even call him to say that I was pregnant.
I'd been quietly living my live with my daughter before he showed up.
Accidental Baby (Ryder and Trina)
A perfect example of an innocent bet turning ugly.
An almost innocent bet.
My best friend challenged me to fake marry her (very hot) brother.
The same brother who picked on me throughout high school.
I didn't see any harm in playing along.
Not like I'd actually fall for the enemy, right?
Accidental Affair (Mo and Brooke)
I've been obsessed with my dad's best friend for as long as I can remember.
Does that make me a bad girl?
Let me clarify.
I'm not just mindlessly obsessed with him.
I actually like Maurice.
Letting him kiss me was a big deal for me.
I'm still holding on to my V-card.
And I want to hand it over to him every time I see him dressed in a suit.
Lucky for me, I see that a lot because I work for him.
Accidental Meeting (Tucker and Holly)
Let's face it.
She deserved better than to be left at the altar.
Whoever broke Holly's heart was an idiot.
She's everything a woman should be.
Irresistibly curvy, feisty, mature.
She's older than me.
Maybe that's why she only thinks of me as her co-worker at school.
Accidental Daddy (Simon Stark and…guess who?)
She lied to me.
Except it turns out she didn't.
And now I realize what an a$$hole I've been.
The only way to make up for it –
Use all of my billions to prove I can be the man she needs.
But what if money isn't enough to convince her I'm not the scoundrel I've always been?
Special bundle deal offered for a limited time. Get this once in a lifetime collection NOW.
Mature audiences only.
Genre: Contemporary Romance
Fake Marriage: A Contemporary Romance Series Box Set by Ajme Williams