No Comments
Beholden to the Bratva: A Russian Mafia Romance Novel by Maura Rose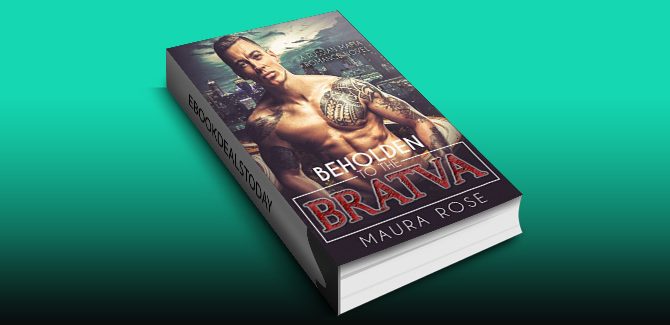 Realtime Price – $0.99
VIKTOR
Ruthless. Brutal. Bloodthirsty.
That's my reputation, and as a member of the Sokolov crime family, I've earned it. I'm good at what I do, and although I may not enjoy "conducting business" quite as much as my father, I know how to do what has to be done. Even if it means ruining lives. Even if it means killing.
The high point of my week is when we have our business meetings at the restaurant where the lovely Lina serves as a waitress and brightens the room with her sweet, nervous smile. She is the daughter of Darius, the restaurant's owner—and Darius is deep in debt to Bogdan, the boss of the Sokolov Bratva…and my father.
Lina is gorgeous. She's angelic. She blushes when she looks at me. But she hates us for what we are.
And now, I have to kidnap her. Business is business, after all, and Darius has to pay.
LINA
Business has been bad for years now, but my father refuses to close the doors of the restaurant. Rather than wiping down tables to clear away food, I'm cleaning off tables to keep the dust from settling. No one eats here anymore…except them. The criminals. The "businessmen." The Bratva.
Every week, they come in and have a meeting in our banquet room, and even though my father puts on a show of friendliness when they walk through the doors, I can tell there is fear in his eyes when he sees them—and that makes me afraid, too. There has to be more to their relationship than a simple love of good comfort food, but my father refuses to talk about the history between him and Bogdan.
I can't stand them. They're bad for business and leave a bad taste in my mouth. I hate the way they look at me, and I hate that I have to smile in their faces while they muddy our restaurant with their vile presence. I hate them all.
Except one. The one with the icy blue eyes that linger on me, the quiet one with the handsome, brooding face. Despite knowing what he is and what he does for a living, I can't help myself. He's hot. He's mysterious. And damn it all to hell, I want him.
Beholden to the Bratva is a standalone full-length steamy romance novel with a heat level (and action-packed drama) sure to leave you dripping with sweat! No cliffhangers, no cheating, and a guaranteed HEA!
Genre: Contemporary Romance
Beholden to the Bratva: A Russian Mafia Romance Novel by Maura Rose